Small Talk: An Interview with Aspen Florist
Posted on 11 March 2019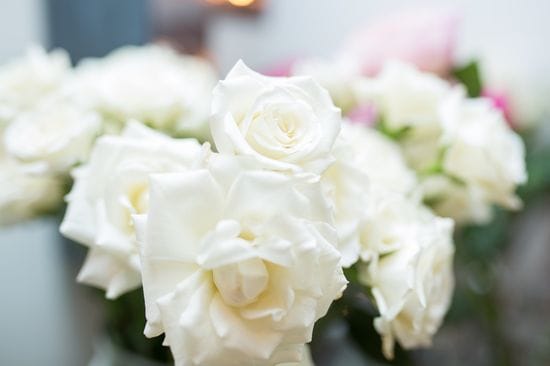 Alright brides, this is an exciting one! Everyone knows that flowers can have a big impact on your wedding day. Bouquets, table arrangements, backdrops; they're all brought to life by your floral designer and this week I have one of the best in the industry: Lisa from Aspen Florist! I have a pretty big space in my heart for Lisa. She was so kind as to let me tag along with her during the setup of one of her weddings when I first entered the wedding photography world. She spoke to me as if I was already an equal in the game and provided me with unconditional guidance and support.
Walking down the wooden stairs to her design studio, you instantly feel that homey vibe. This isn't just because it's actually situated in her home but she's designed it to feel welcoming and SO on brand. All the little details have been carefully curated and you can't help but peruse through it. I hope you are excited as I am to learn more about Lisa and how she created this fabulous business: Aspen Florist.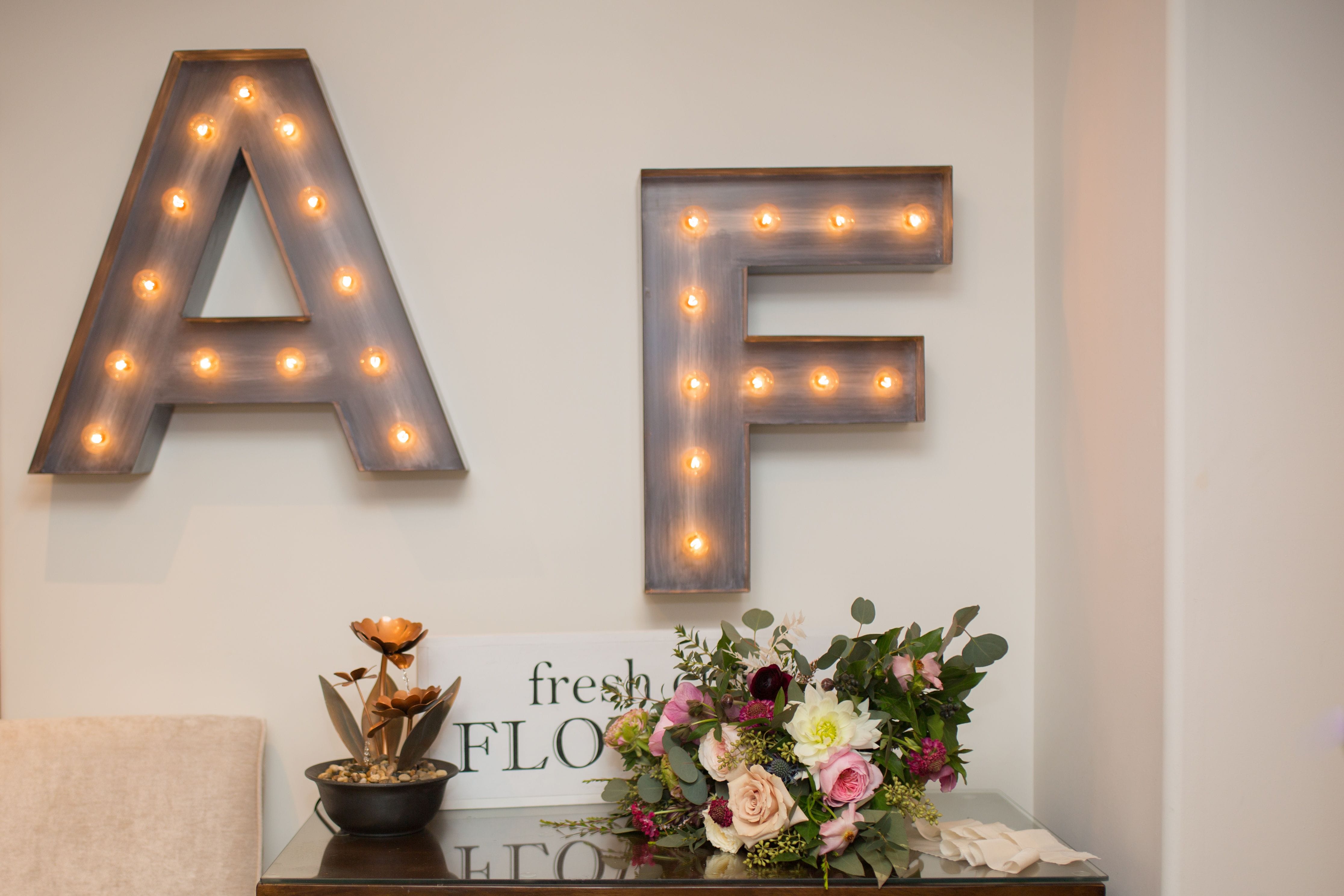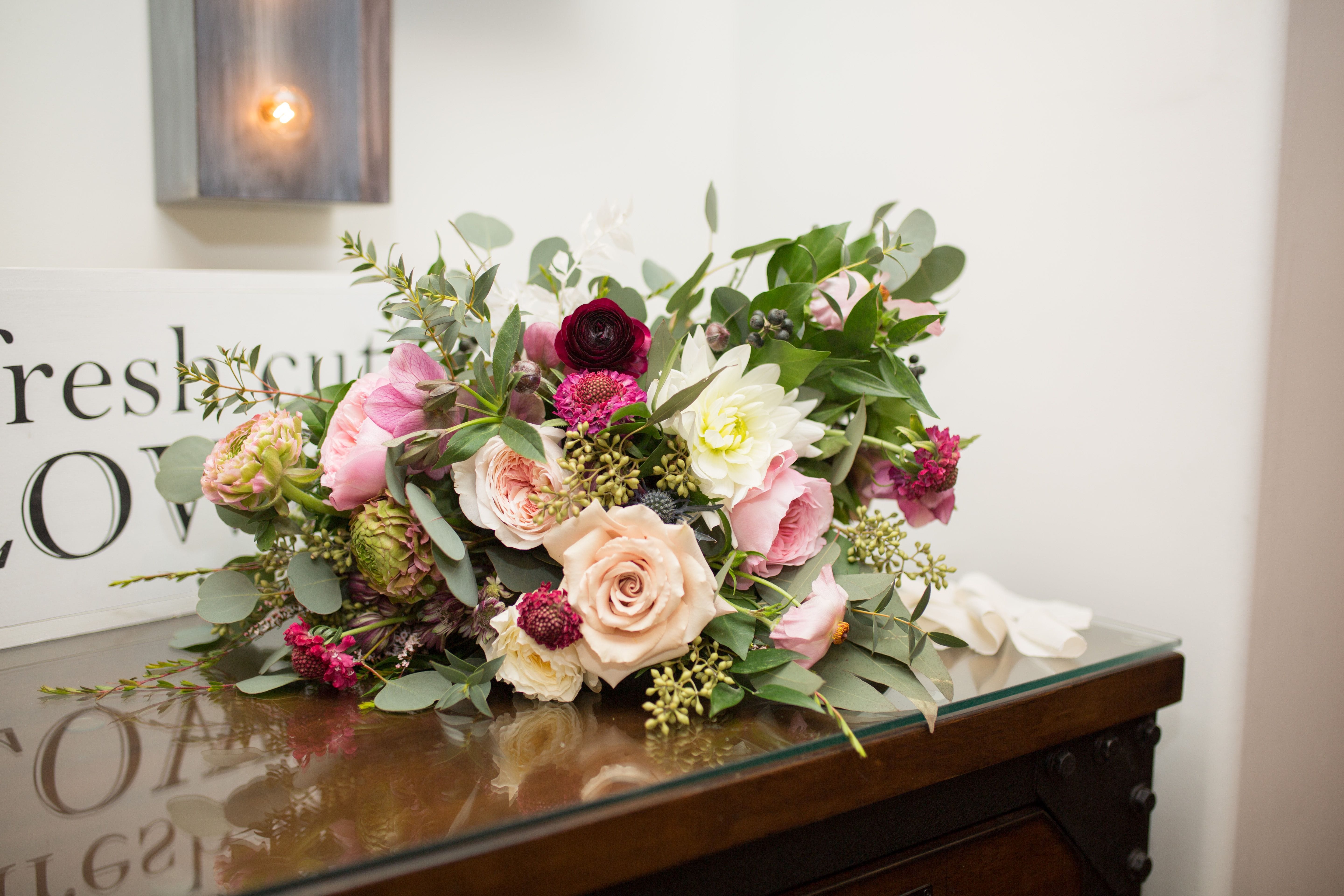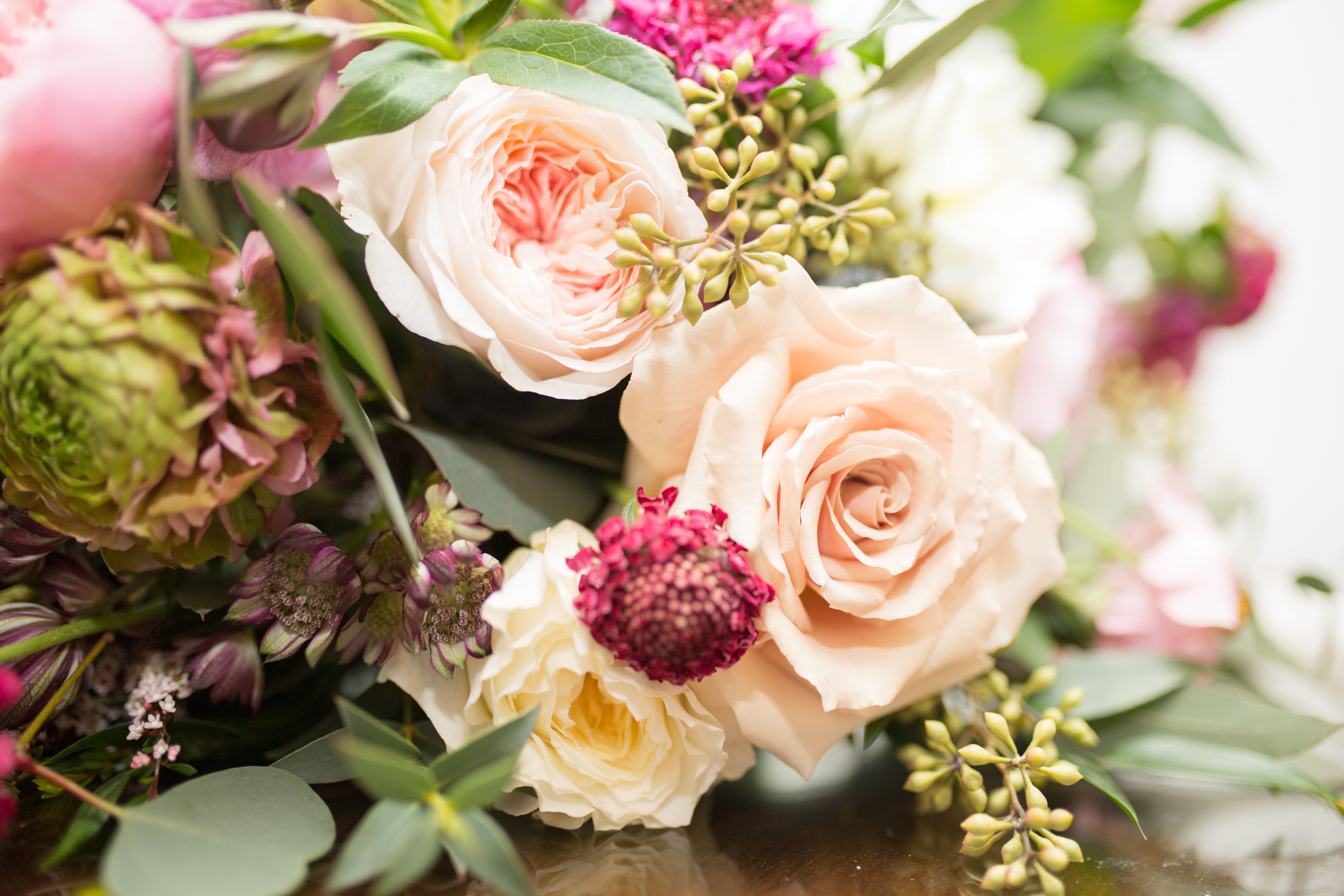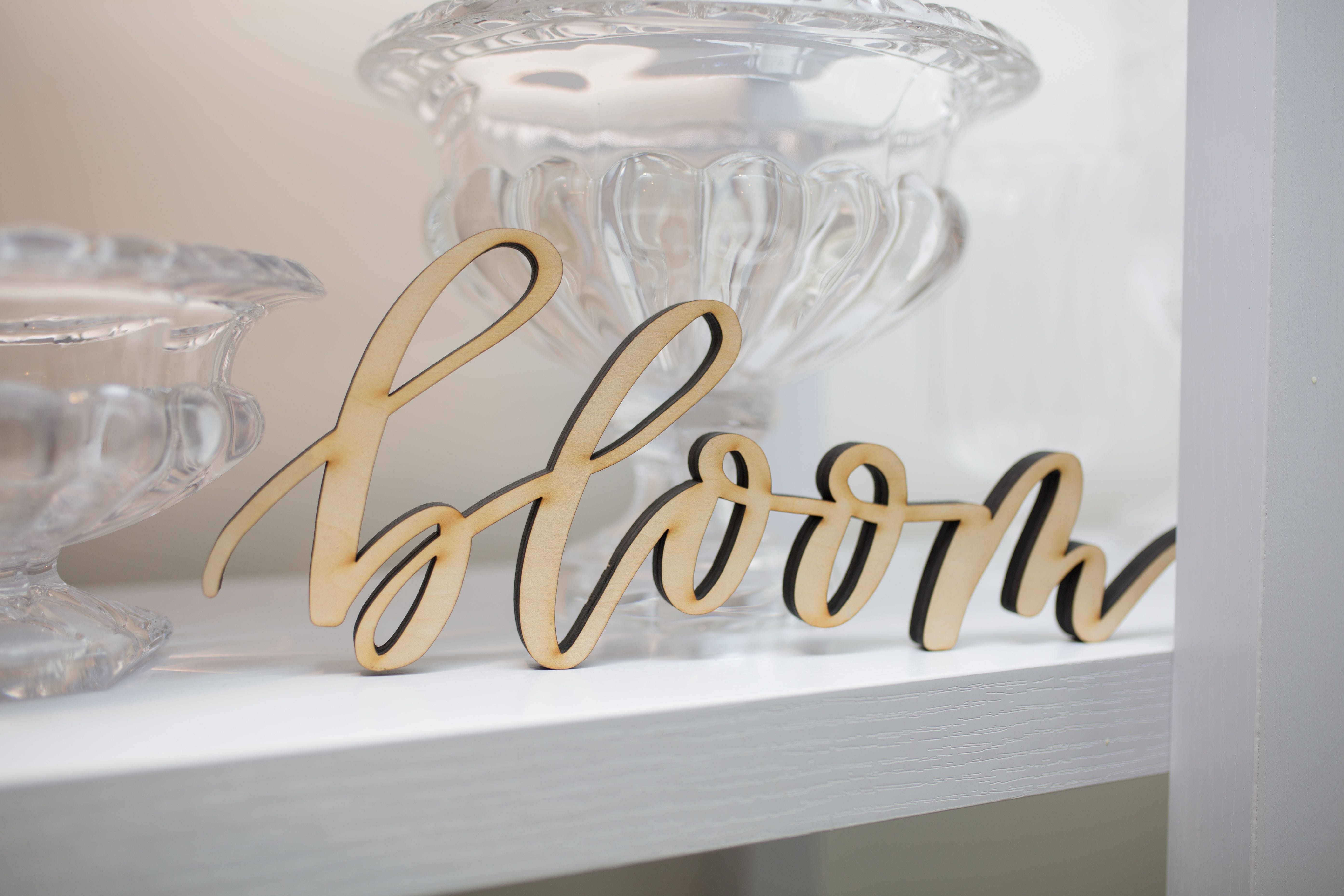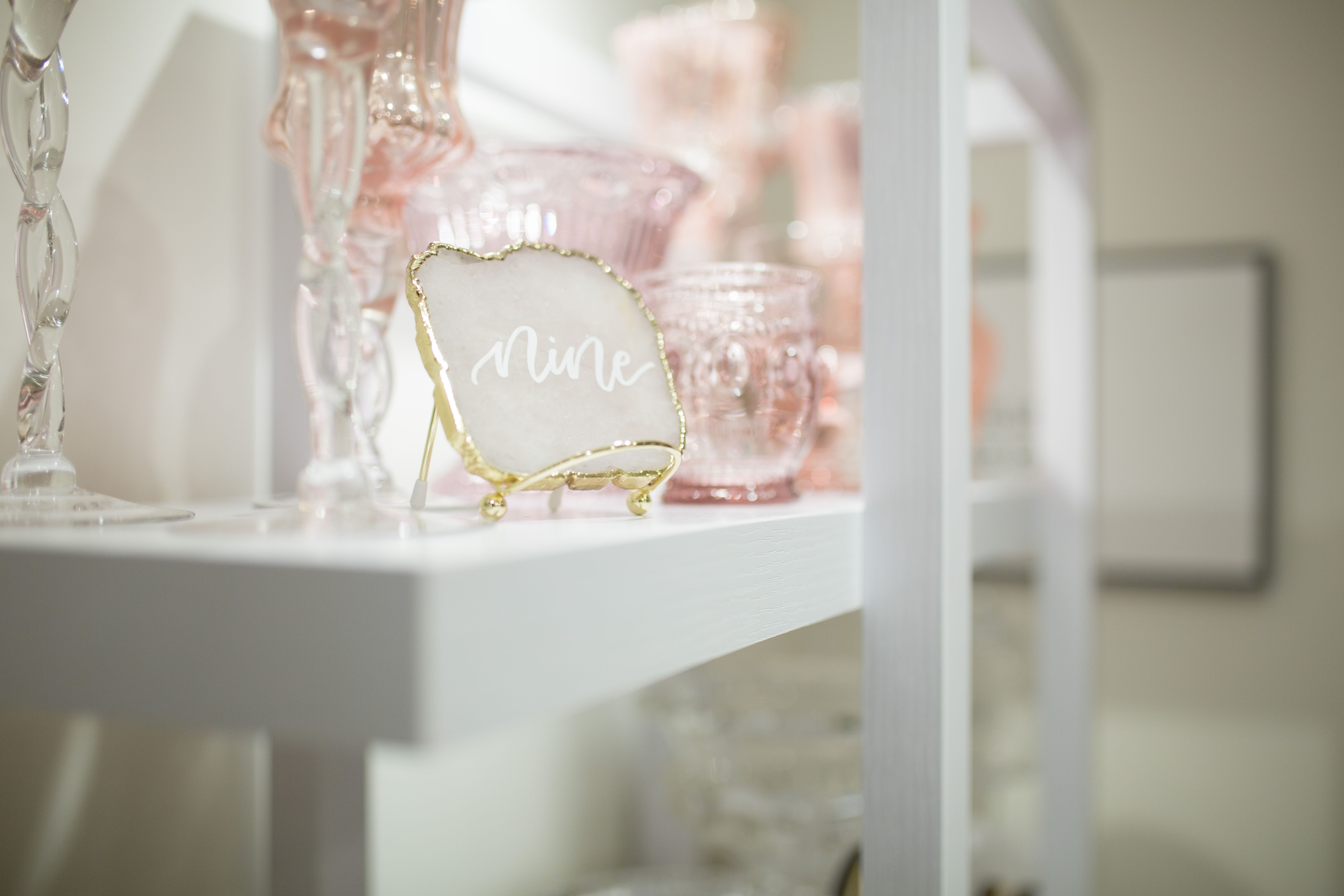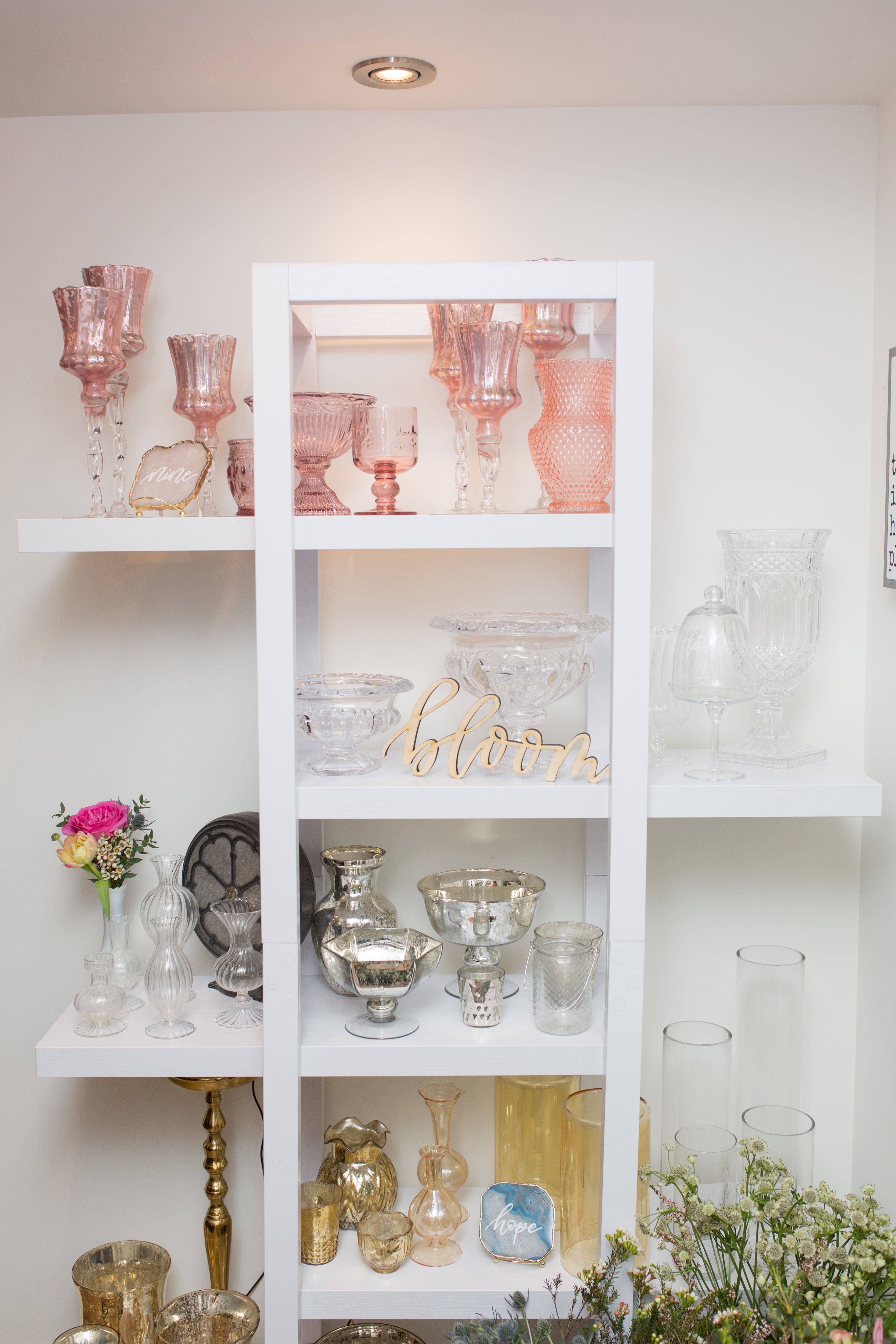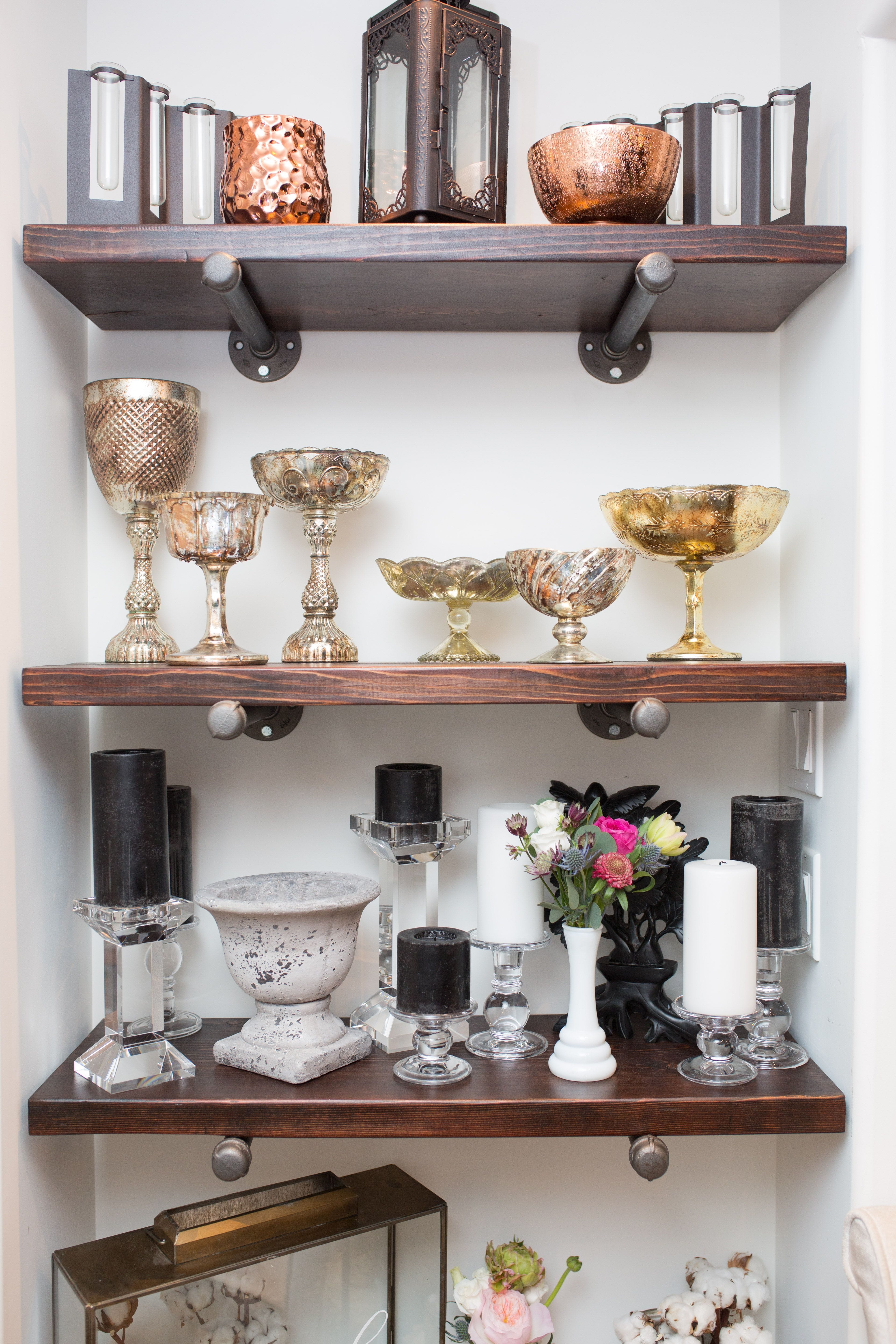 What inspired you to start Aspen Florist?
I had always been drawn to working with flowers and decided to take the leap into floral design schooling while I was pregnant with my 3rd son. I originally opened a small company called Aspen Springs Florist in 1996 following my schooling while working as a floral designer for a local retail floral dept. until I suffered some serious injuries following a head on collision with a drunk driver in the fall of 2001. After that, I gave up flowers professionally and focused on my family until July 2014 when my niece, who happened to be a wedding planner, got engaged and asked me to design her wedding flowers. One thing led to another pretty quickly, I opened Aspen Florist a month later, naming it after my first company and the neighbourhood in which I live.
My husband got right to work, building me a full service studio space with walk in cooler in our new home while I started showcasing in a few local bridal shows with my niece that fall. I refreshed my wedding design skills and knowledge with a Holly Heider Chapple Wedding & Event Design Workshop that spring, which is when I officially became one of Canada's 11 Chapel Designers, then I hit the ground running with 17 weddings during our first wedding season in business.
What is your favourite thing about working for yourself?
I love the creativity and freedom of setting my own hours and having the design studio at home allows me the comfort of working at my own pace without the added pressure of retail following my accident.
What is the first thing you do every morning?
I check my email and social media comments before starting the day with an egg breakfast of some kind followed by a quick workout out & shower before I'm ready to embrace the day.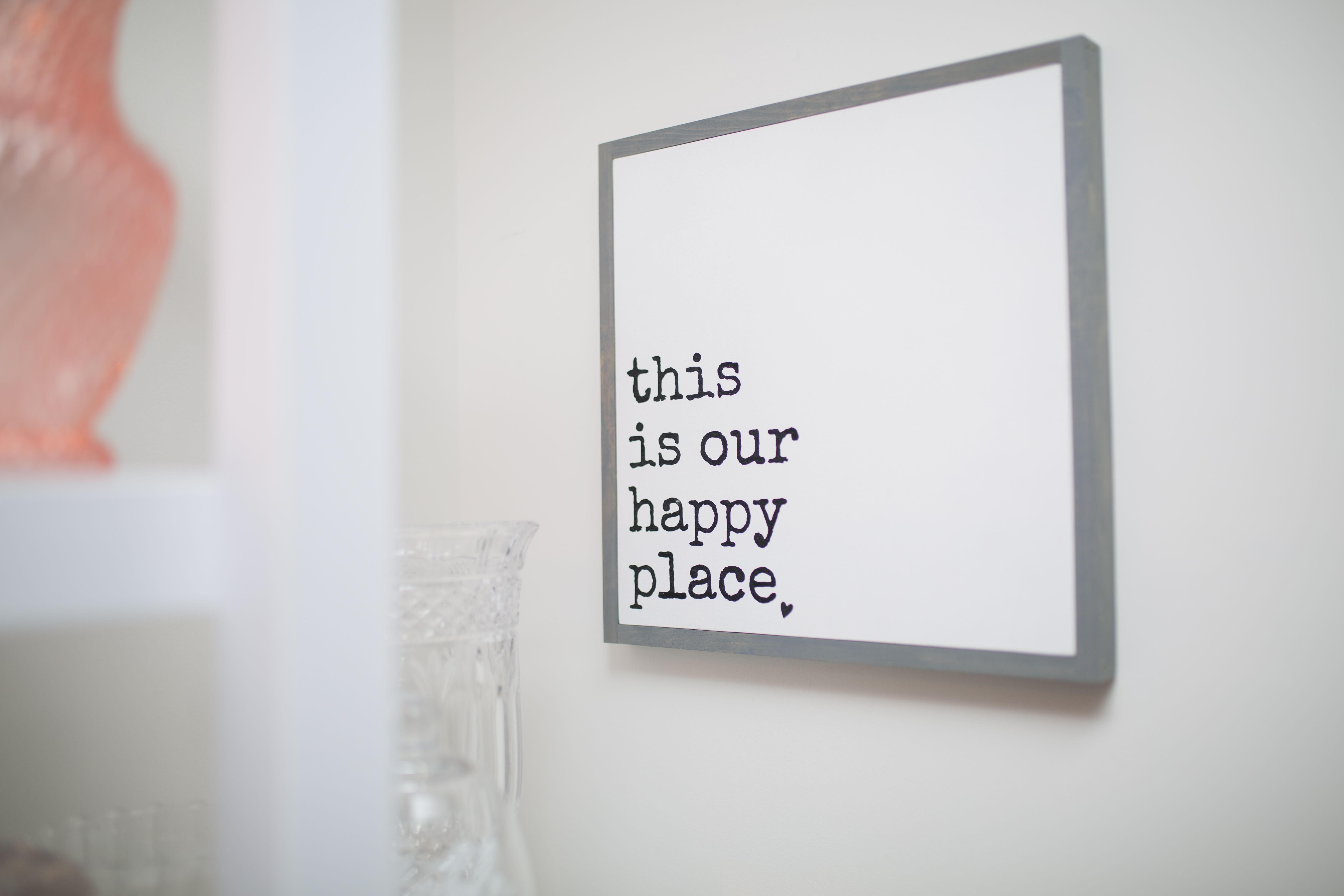 How do you define success?
That's a tough question? I think success is an accumulation of moments. I never thought about what I was building I just focused on creating beautiful blooms for one amazing client at a time, before I knew it I had built a brand that had an energy of its own. I'm so humbled to say Aspen has become a brand name this is well respected and loved in our community.
What is your biggest regret?
I don't know that I have any regrets but my biggest fault may be leading with my heart too quickly. I believe in treating everyone like family and I've been hurt or taken advantage of on a few occasions. I'm human, I'm not perfect, I've made a few mistakes along with way and I've learned from them. I believe that's where the real growth and strength come from, which ultimately help us become even more successful.
How do you overcome a set back?
I learn from it and move on. You can't change the past but you can do your best and keep moving forward.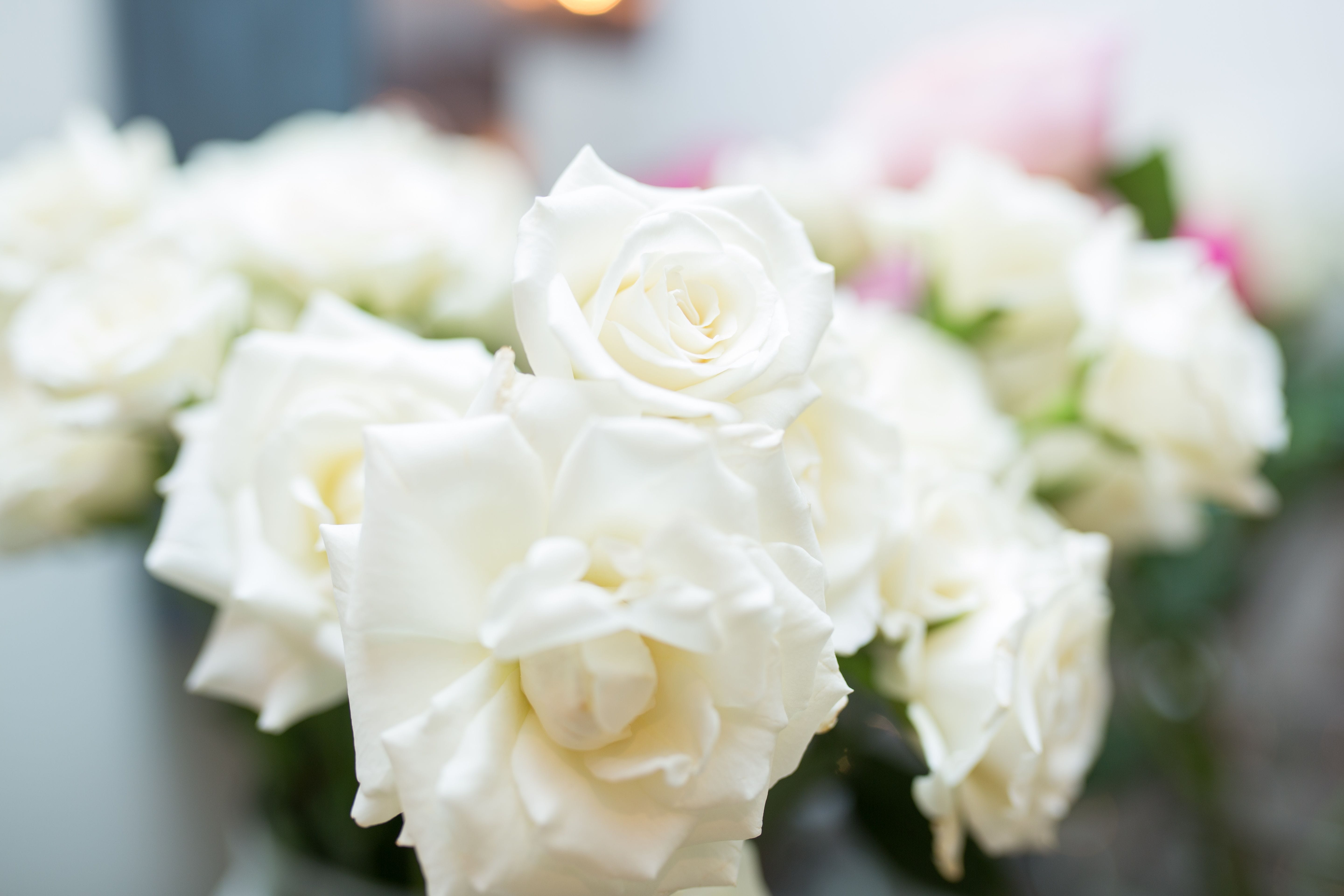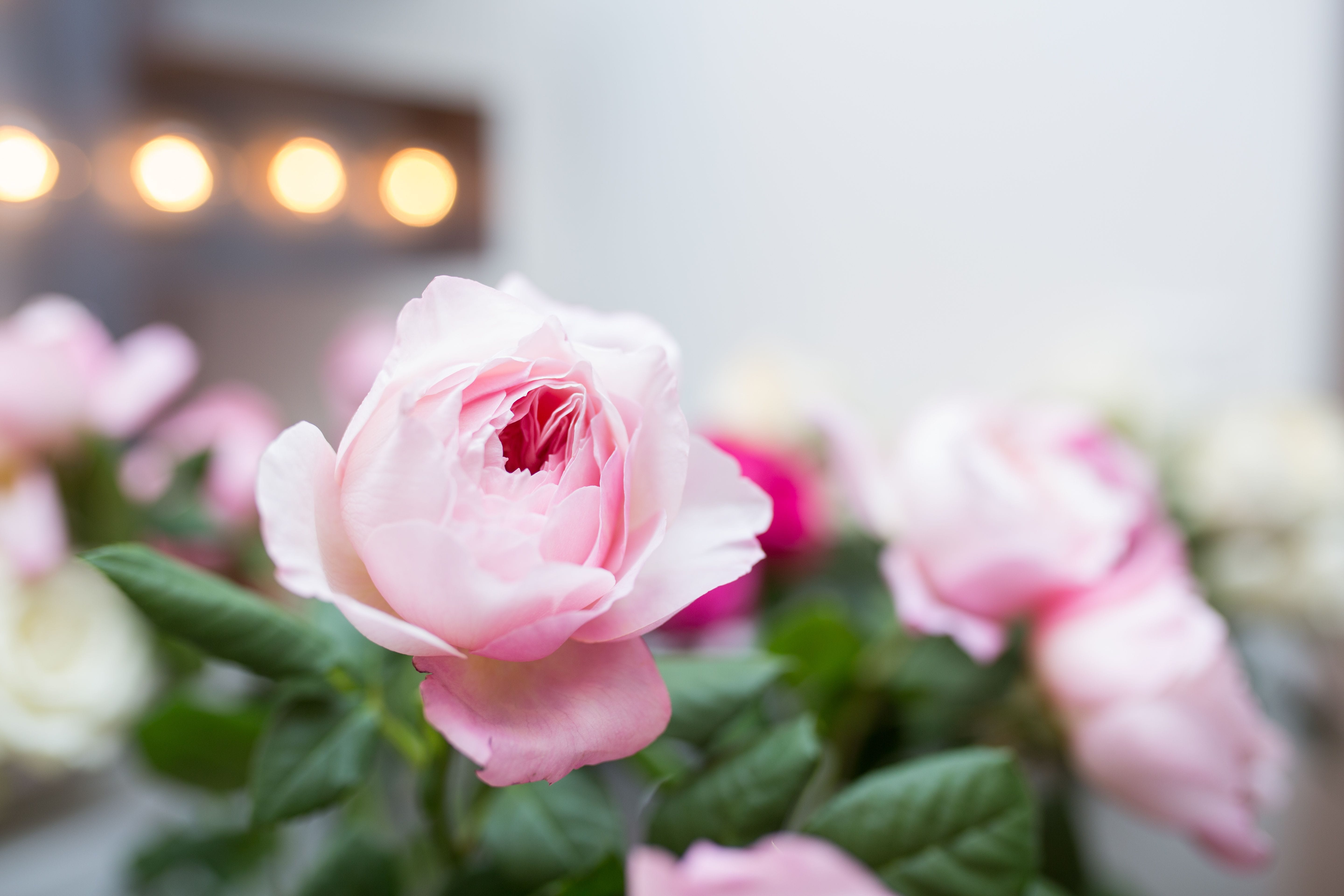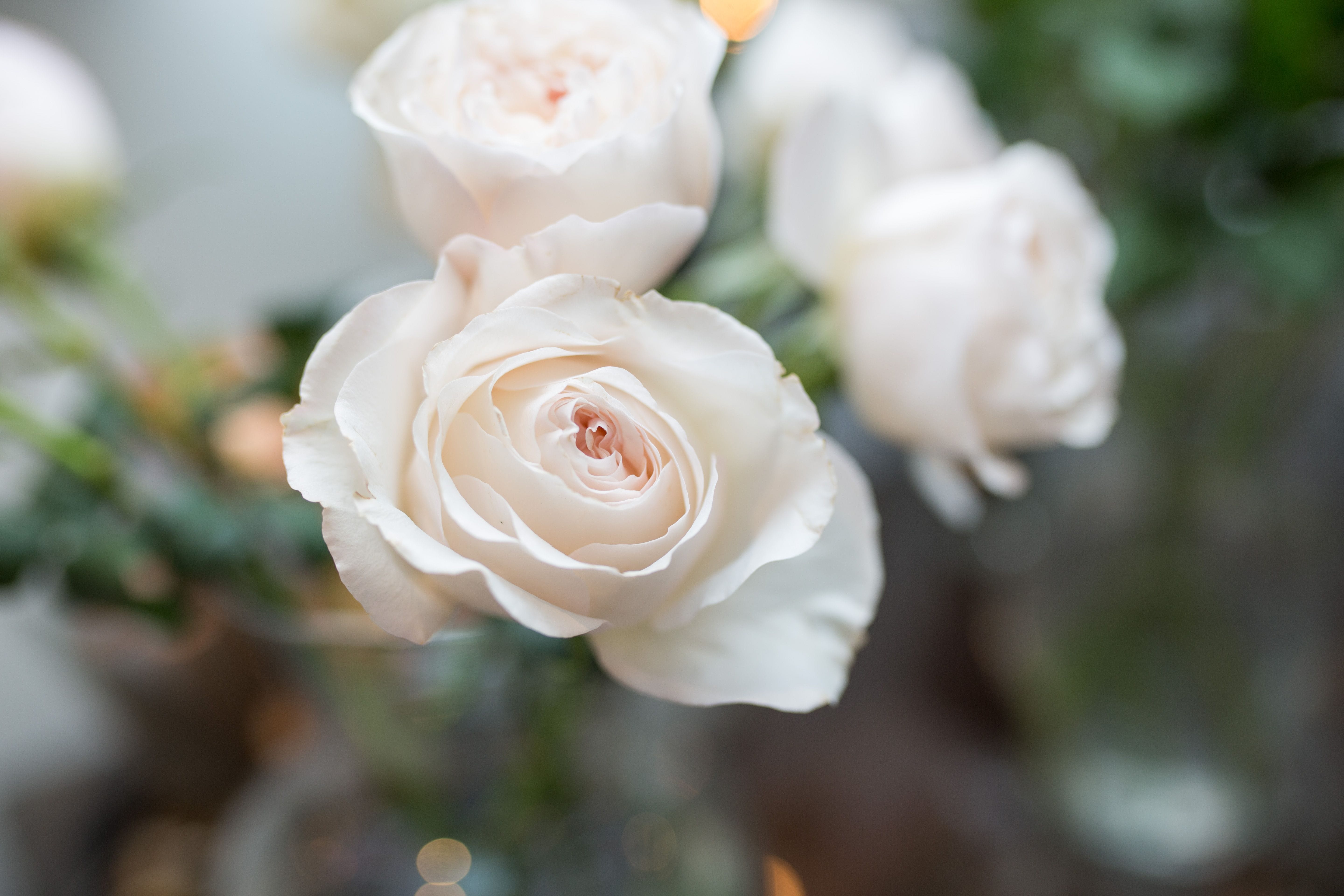 What is your biggest "a-ha" moment?
After completing my most successful year to date, I realized I have very limited free time to enjoy the simple things in life like I used to. In 2019 I intend to work smarter not harder. I've made sure to carve out some time to spend with my family for fun this year and I feel a renewed sense of calm about how I will handle the new season ahead.
What is an ideal timeline for booking your wedding florist?
We are booking faster every year so my best advice is to secure your wedding venue, your photographer and florist/planner as soon as you can. Typically we are booking 12-18 months ahead for prime dates and 6-9 months ahead for off-season dates.
What trends are you seeing for 2019?
Lush Greenery is still a big deal in 2019, we're excited to see our clients are embracing beautiful ceremony and reception arbours and installations. One of the latest trends we love is the circle of love floral arbour or moongate (which we have in our rental collection) or the fun new deconstructed arches for ceremony decor.
The Pantone colour of the year is Living Coral so we're looking forward to our brides embracing some bolder colour palettes this year.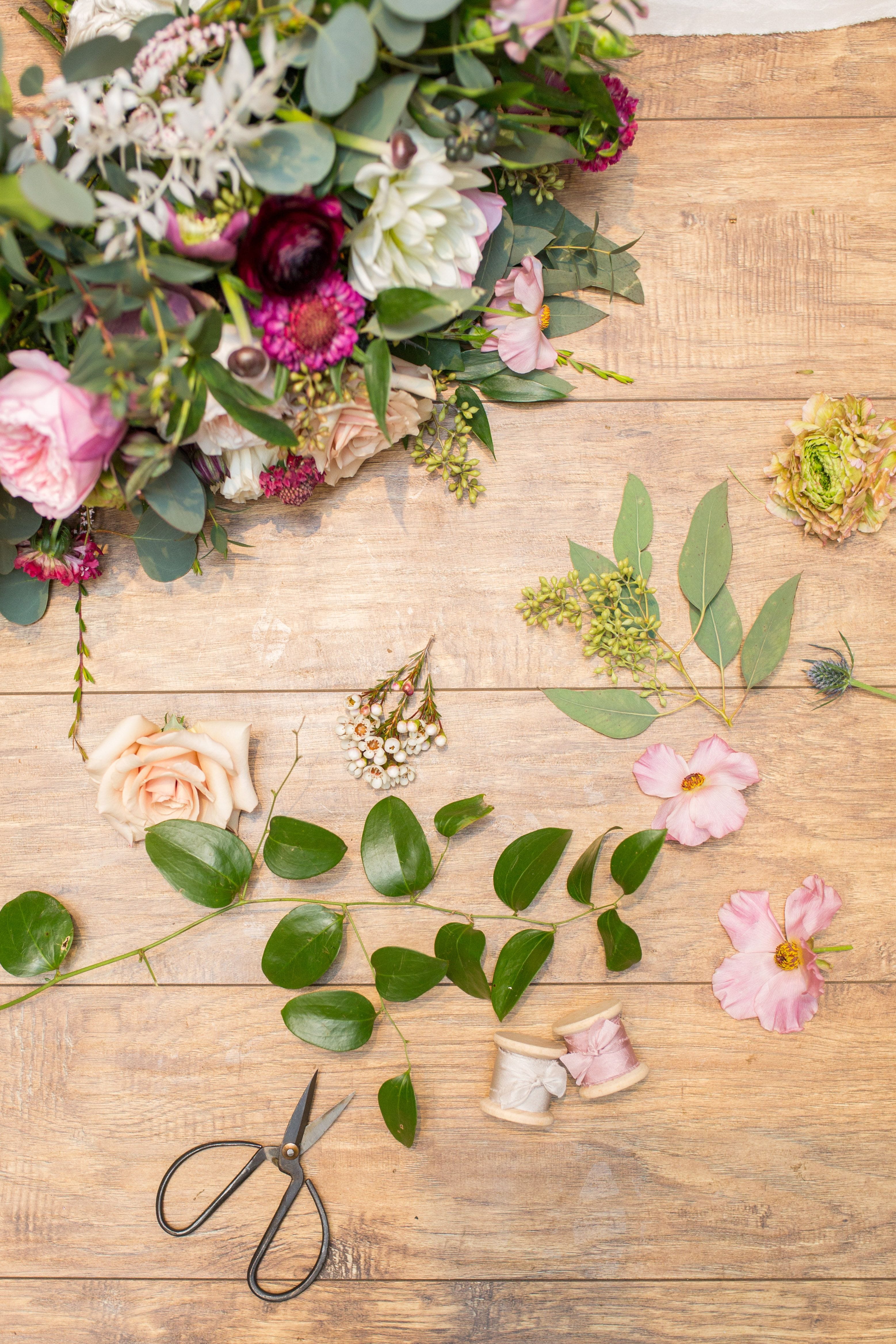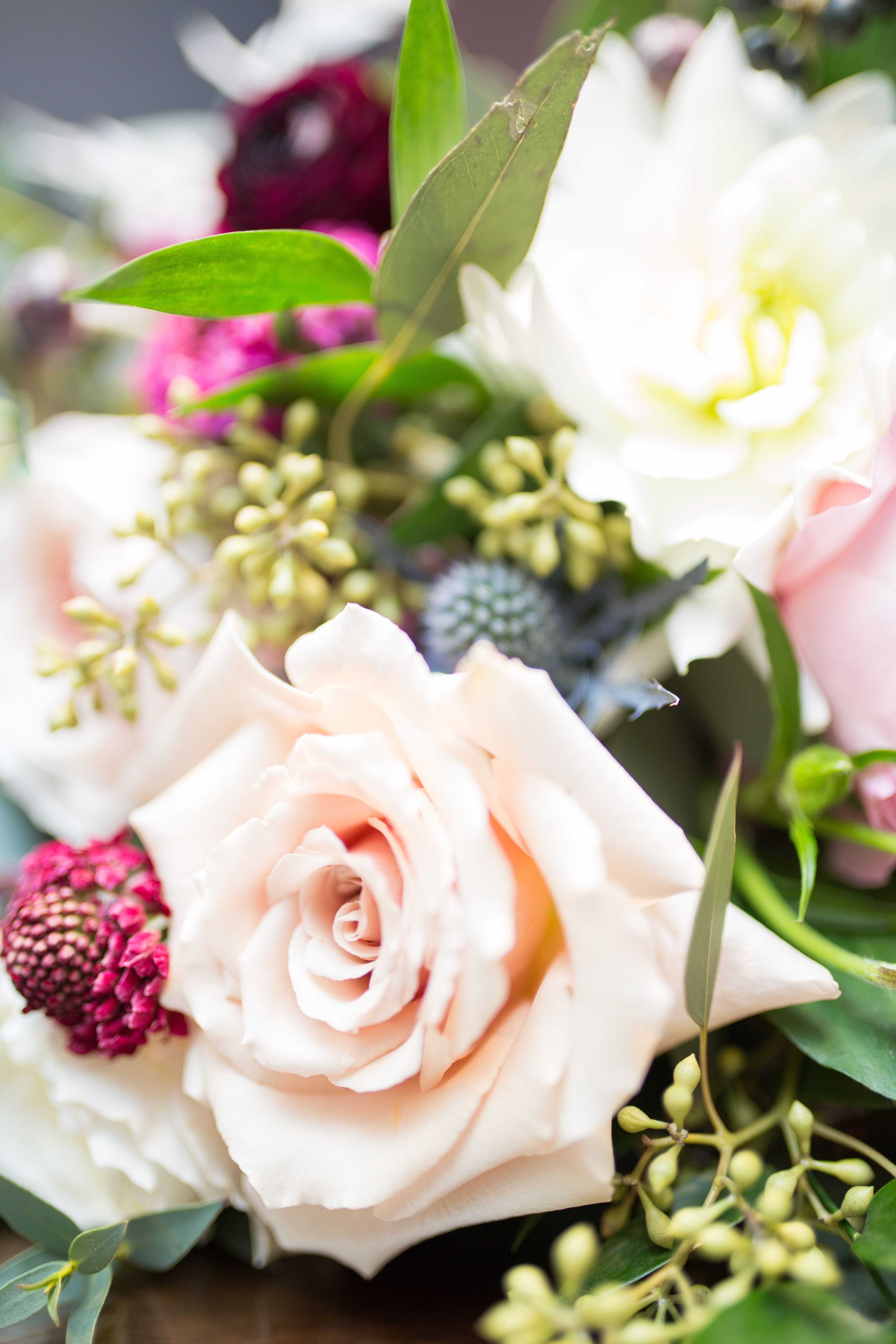 What's next for Aspen?
In addition to the busiest sold out wedding season in our history, we've added monthly subscription flower bouquets for our lovely clientele, we're expanding our baby and maternity styled events in partnership w/ Petra King and we're now offering event styling and design services for our weddings as well as in home dinner parties in partnership with Gervais Party & Tent Rental.
We're also very excited about our monthly pop ups this year which will feature our Aspen Bouquets to Go and our brand new Aspen Minis! You'll have to stay tuned to our socials for the dates and locations.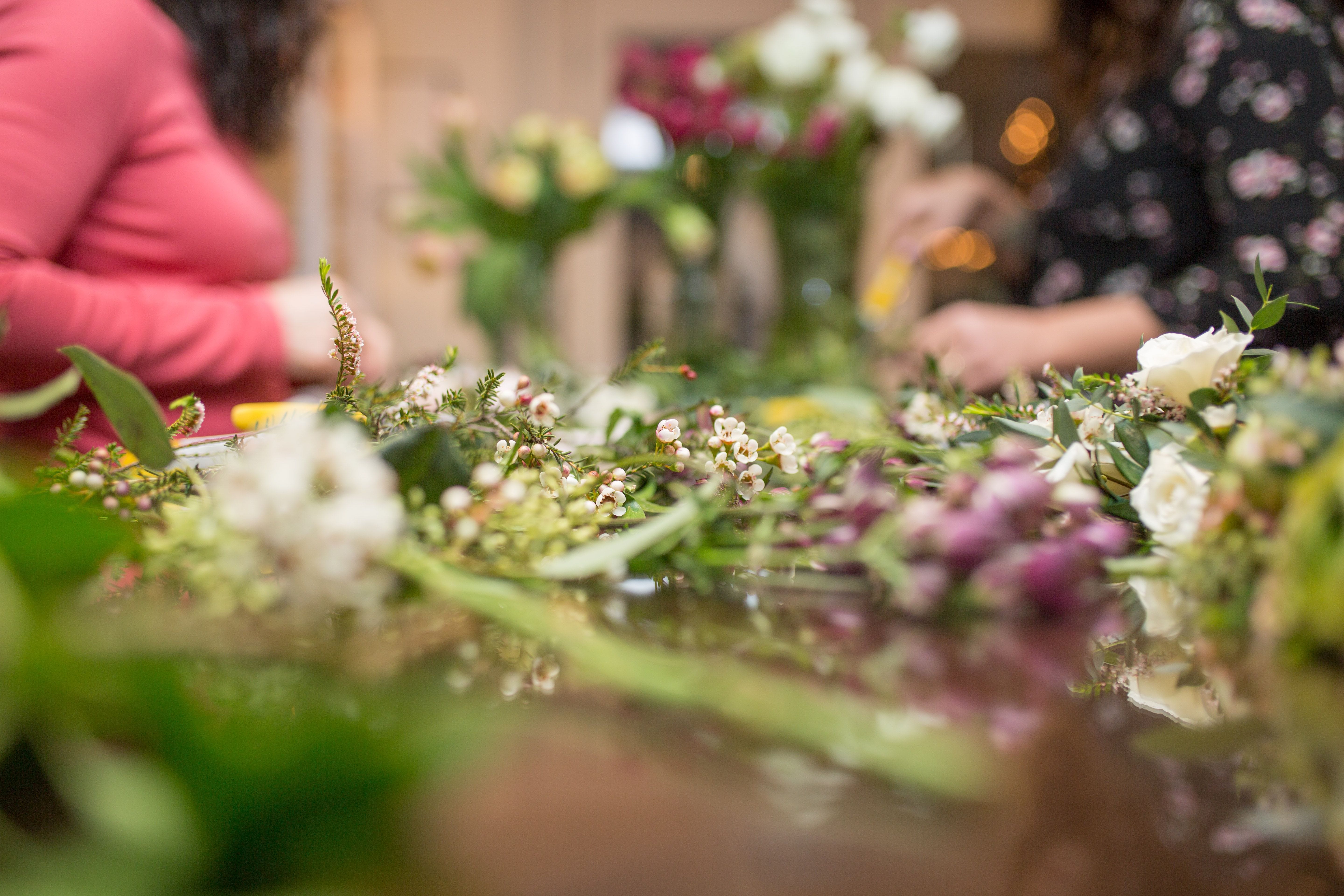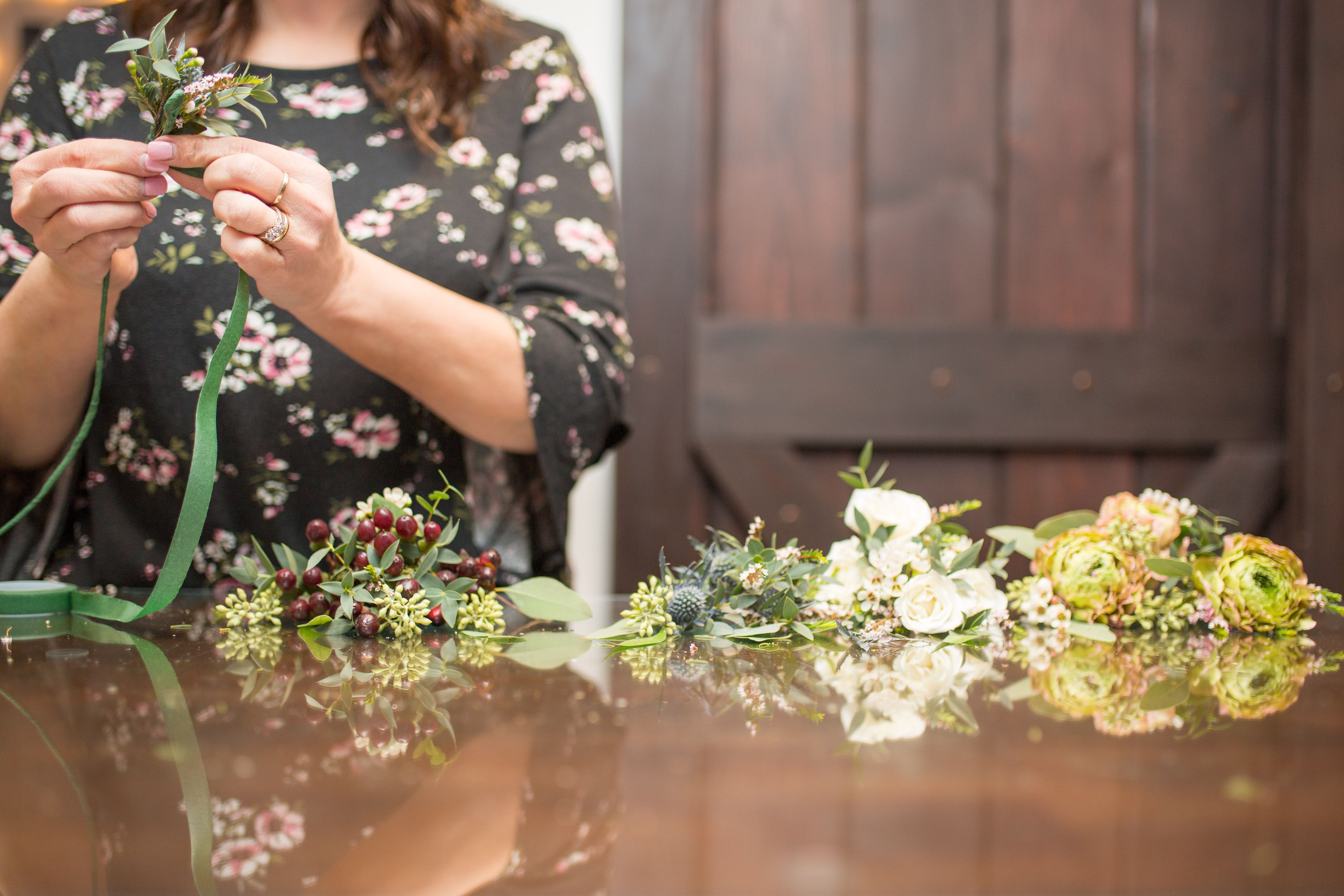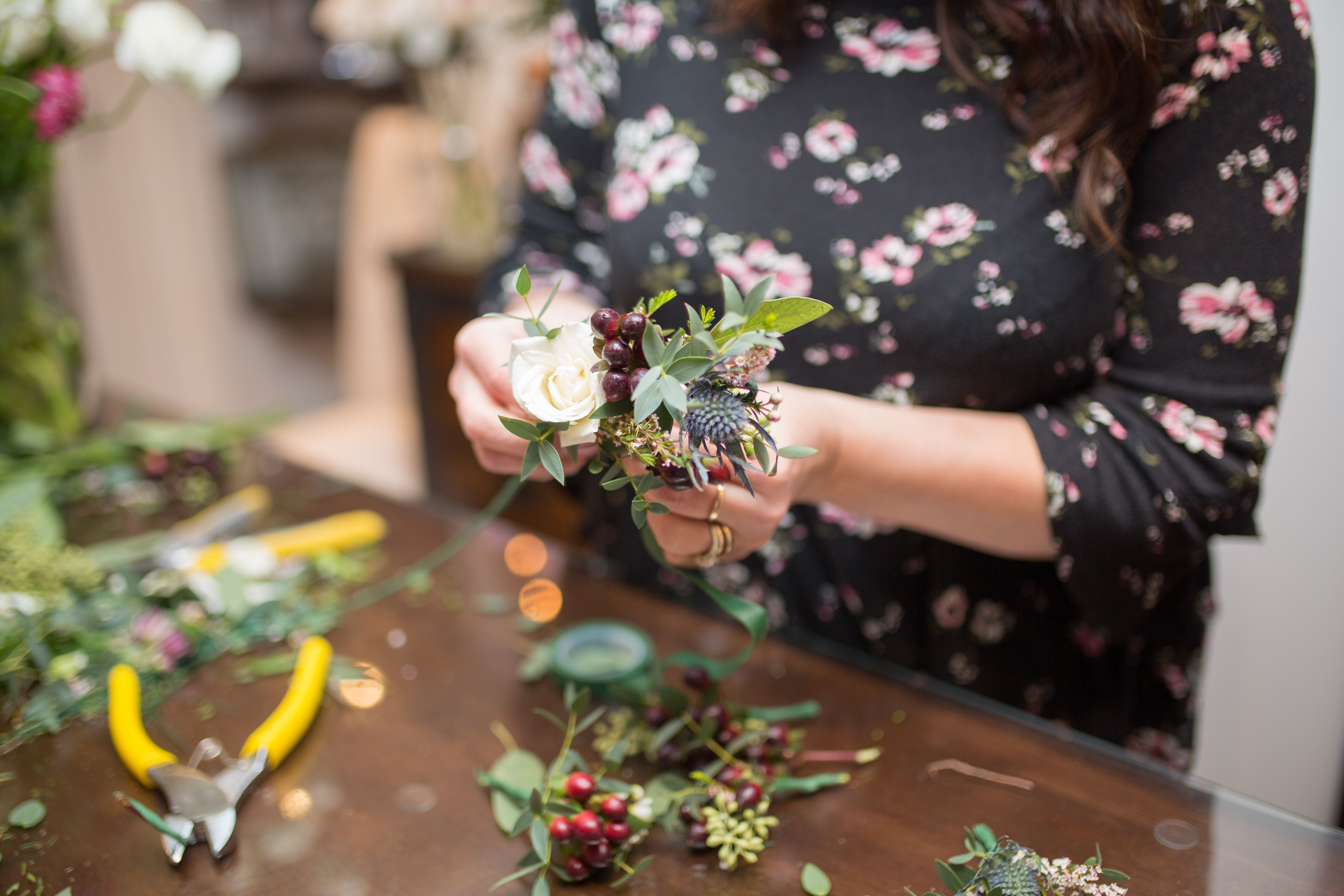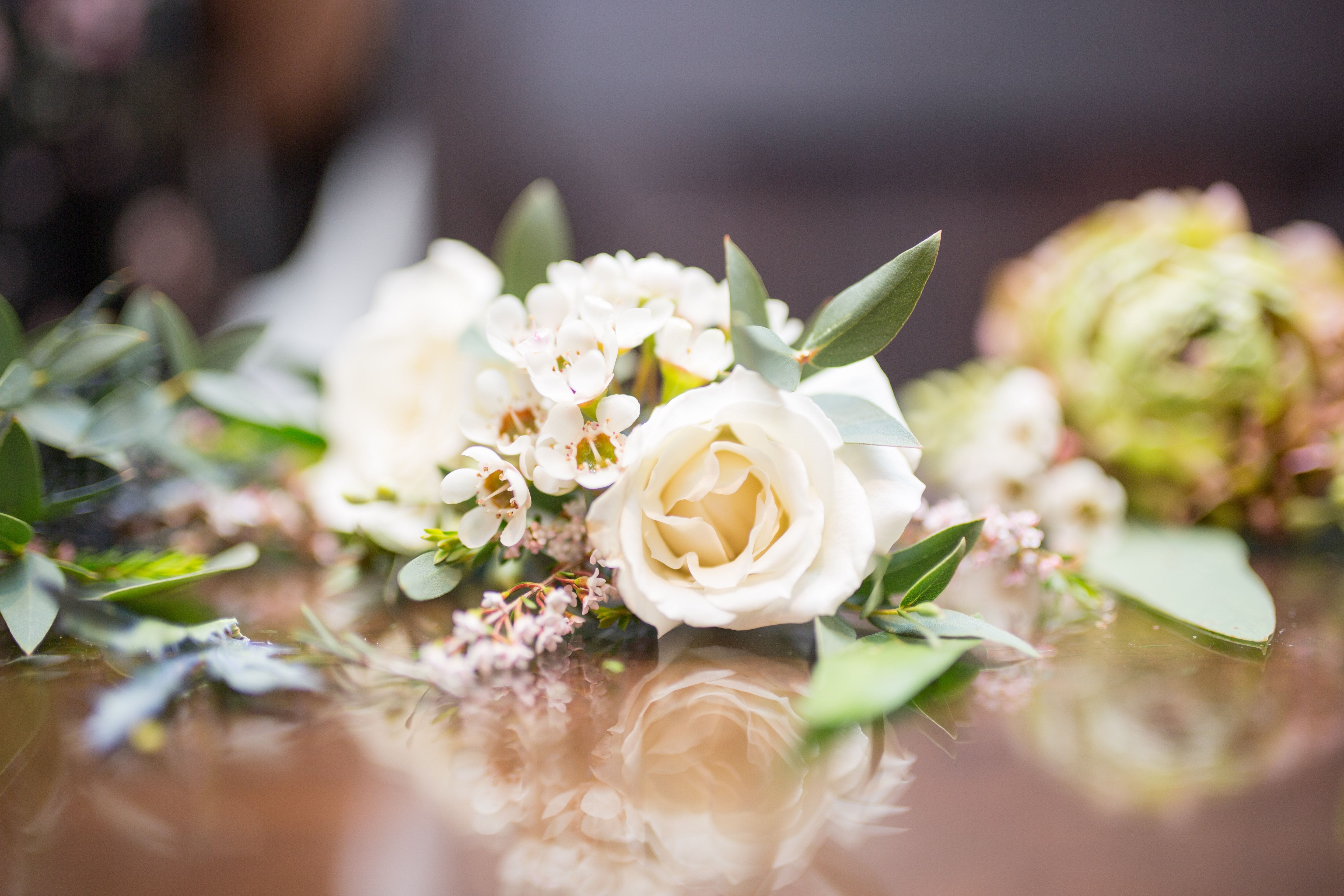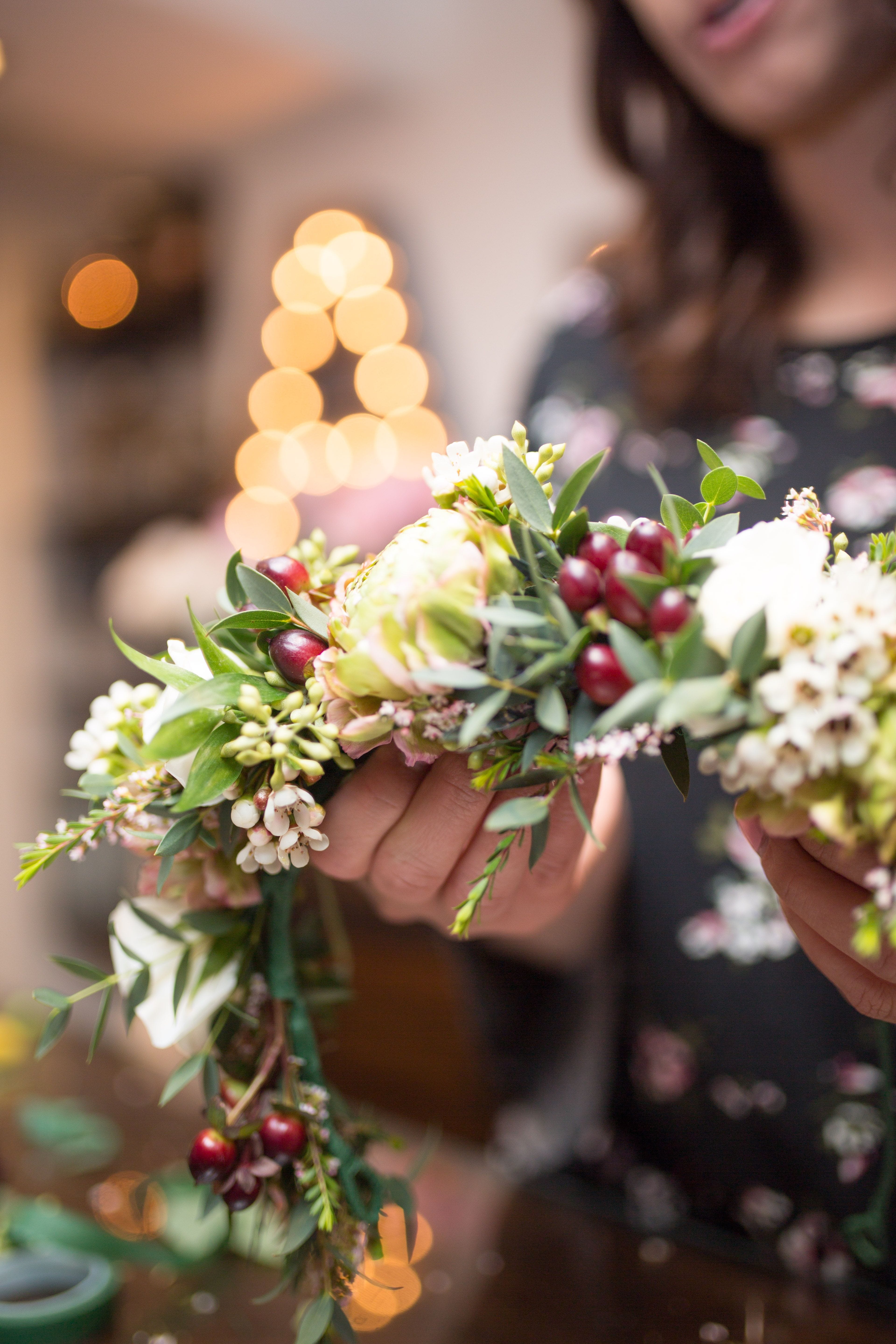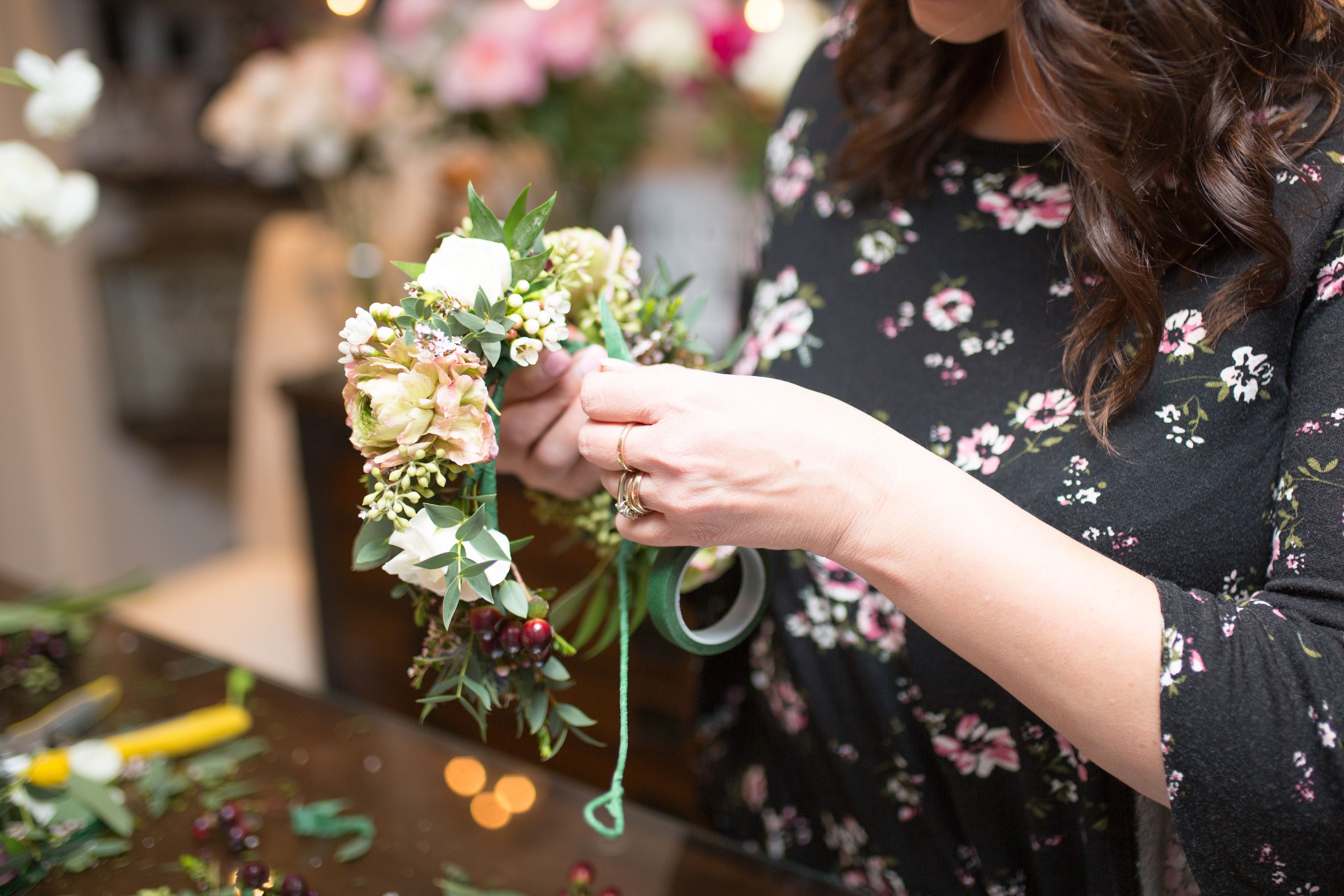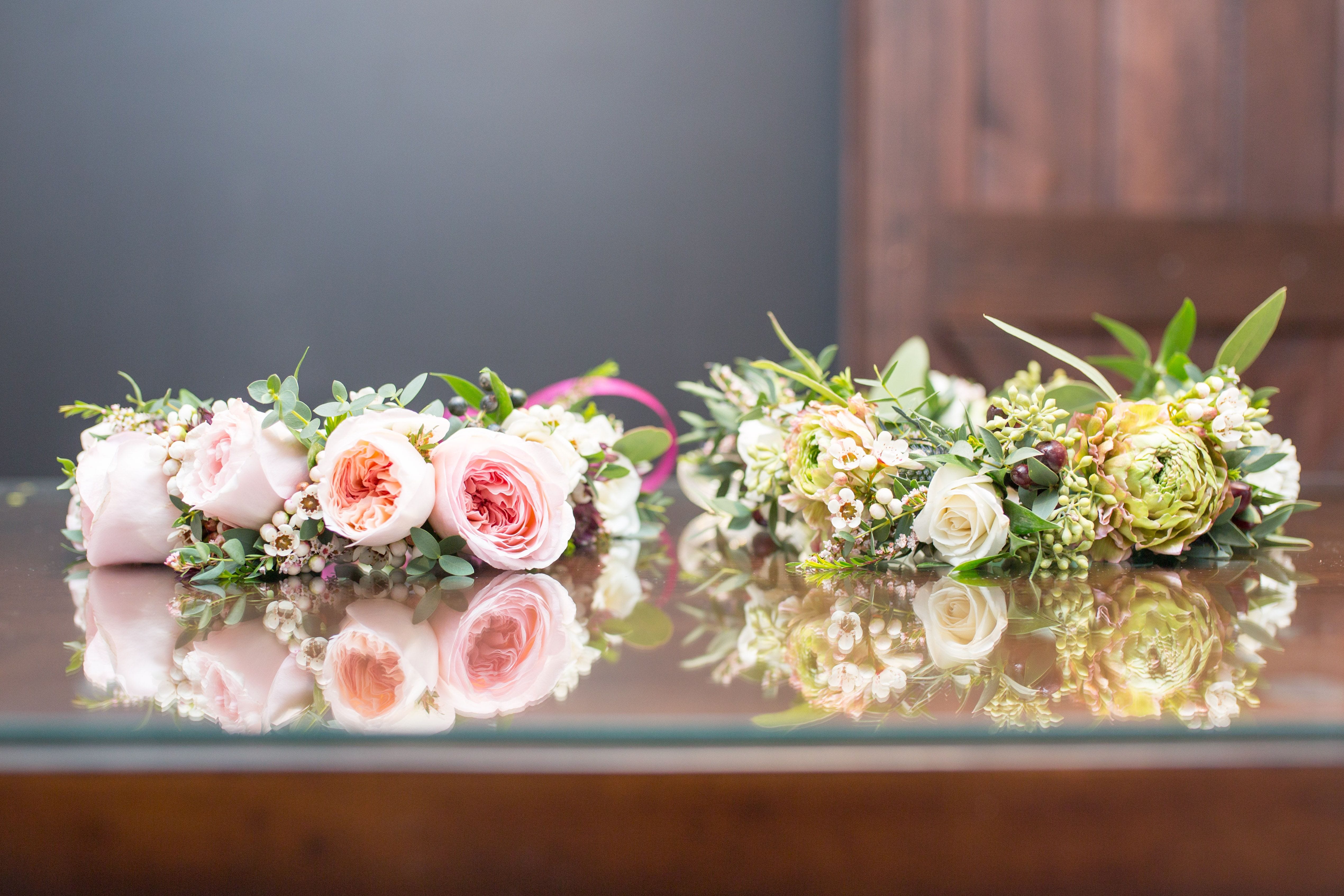 What is a non negotiable in your business?
Quality is non negotiable. I pride Aspen on excellence. I give my clients 110% from the first email through the wedding day and I will not compromise the quality of our products. An Aspen Wedding has a reputation to live up to and I can't provide the level of service we're known for without the prettiest blooms and a network of great wholesalers and growers behind me. With all that said, we spend a great deal of time preparing very detailed beautiful proposals for our clients, this allows them to see the breakdown as well as the value of our full event service weddings.
What is the one thing you can't live without?
My Team! My assistant Melanie joined the Aspen Team two years ago this month and I have no idea how I ever managed without her! Melanie assists me with all things floral, we create together and we support one another. She cares about our clients and the level of service we provide as much as I do and that is such a rare quality. She's the PB to my Jam, I could not do the volume of events we're doing without her hard work, talent and dedication! I'm so grateful she's in my life.
The other half of the events team is my family. My husband Mike, our 3 sons and my sons girlfriend Jenn, help with every large-scale event set up and installation we create. To be honest Melanie and I would be lost without them. It takes a small village to pull off magic for our clients and the 7 of us do it over 35+ times a year!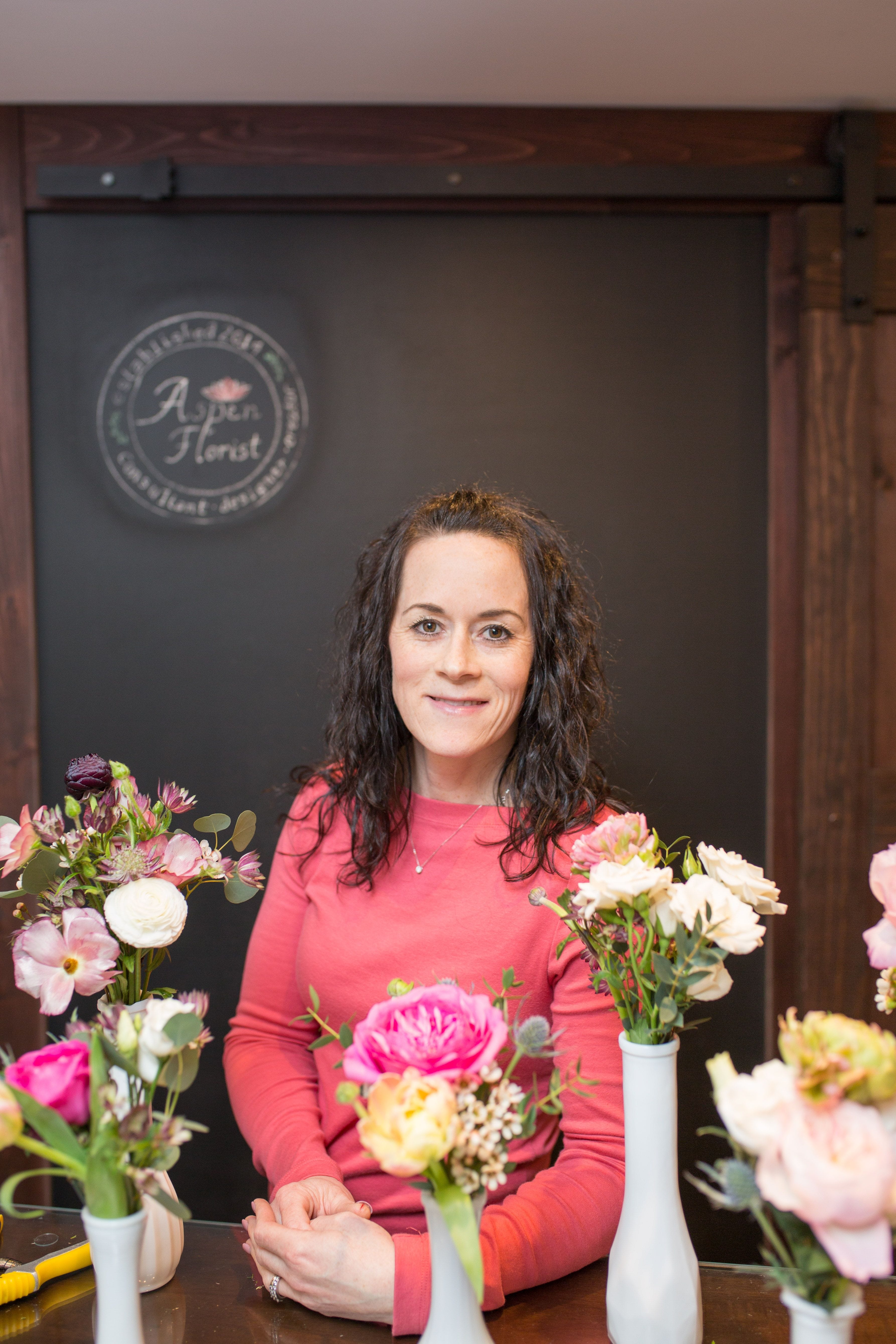 What is the best advice you ever received?
Stay true to yourself. I live by it.
If you could tell one perspective client one thing, what would it be?
Do your research and book your preferred vendors first. We are booking 12-18 months ahead right now and I hate disappointing new clients so please reach out as early as you can!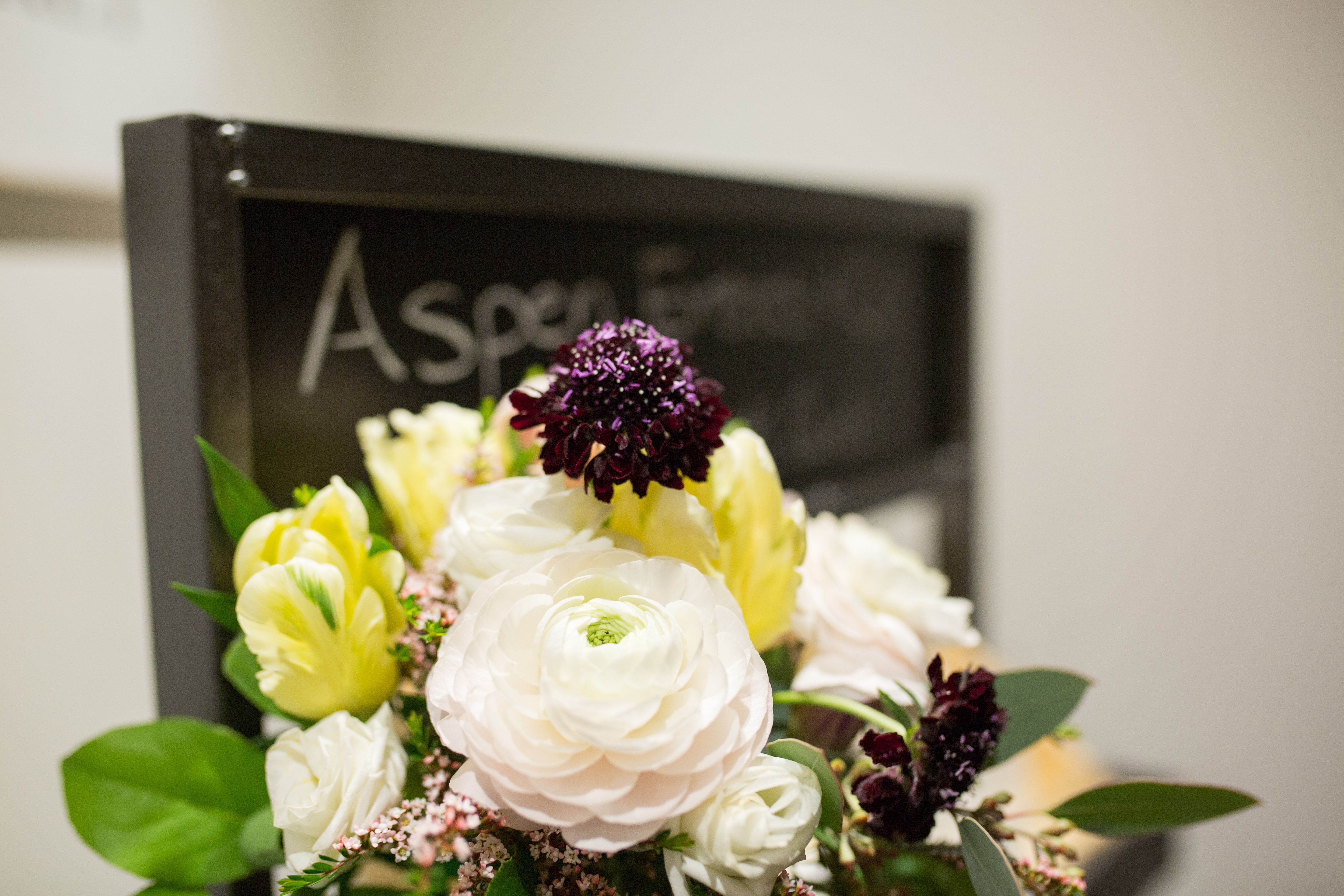 Do you offer wedding packages?
No, every wedding we create is customized for the couple.
Each inquiry is unique and therefore it's impossible to say how much the floral design will cost until I have all the inspiration and details behind it. Then I will spend several hours creating a detailed floral plan for their wedding, where I'm essentially planning every bloom right down to the last detail. I can tell you on average a full service Aspen Wedding ranges from 2500-10 K. While we do a la carte weddings for less and grander large-scale weddings for more, we don't have a set pricelist or minimum. We try our best to work with all floral budgets because we believe every bride deserves to have beautiful wedding flowers and we're honoured to create them.
What is the consultation experience like for your clients?
We ask new inquiries to contact us through our website at www.aspenflorist.ca/contact
They'll fill in a short contact form and then we will receive their inquiry directly in our inbox. If we're available for their date, we will respond with our Welcome Letter and Pre-Consultation Checklist. They have the option of filling it in or scheduling a call with us to discuss their needs in a bit more detail or they can book an appointment to come into our studio to chat in person. Following our discussion, I will prepare a detailed custom proposal for their event within 5-10 business days depending on my workload/event schedule at the time. Once they receive the quote, they have 7 days to request revisions and secure our services. Our quotes expire after this time to be fair to other inquiries looking for the same date. While I wish we could do every wedding inquiry, Aspen is a small-bespoke studio and our space can only accommodate so much in a week.
Lisa is a floral genius and if you have been looking for a dream florist to design your bouquet and arrangements that will wow every single one of your guests, then reach out to her. You'll be thankful you did.
How to find Aspen Florist:

Phone:
905-809-5806
Email:
info@aspenflorist.ca
Instagram:
https://www.instagram.com/aspenflorist
Facebook:
https://www.facebook.com/aspenflorist
Website: