Small Talk: An Interview with One Love One Dream Bridal
Posted on 10 January 2019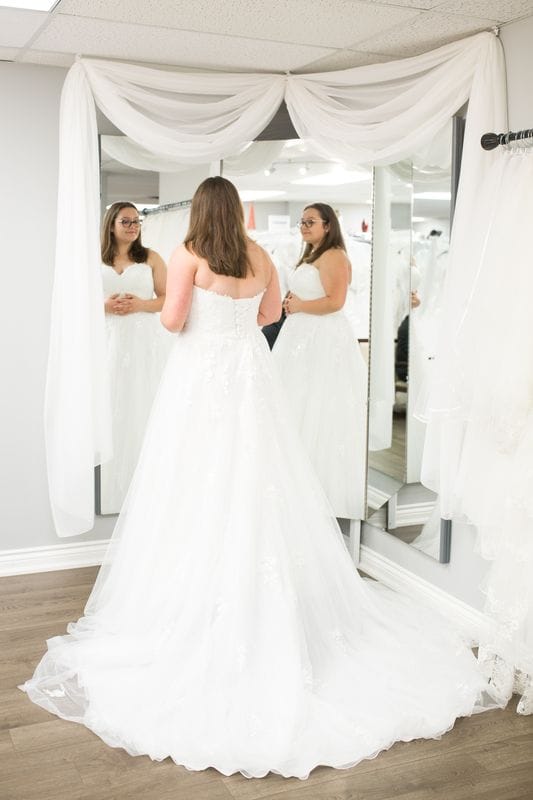 On November 1st 2014 One Love One Dream Bridal opened in Courtice.
It is a very tidy, clean and modern salon that houses SO many dresses. Their staff is super sweet and inside is very cozy and inviting. Looking around for a wedding dress can be exhausting and overwhelming but with the help of this wonderful staff, it doesn't have to be.
They are involved in a number of community events that support youth, leadership, Cystic fibrosis, etc. They put on fashion shows and provide free entertainment to support these organizations. Let's take a closer look at this fabulous business and the woman behind it, Janet.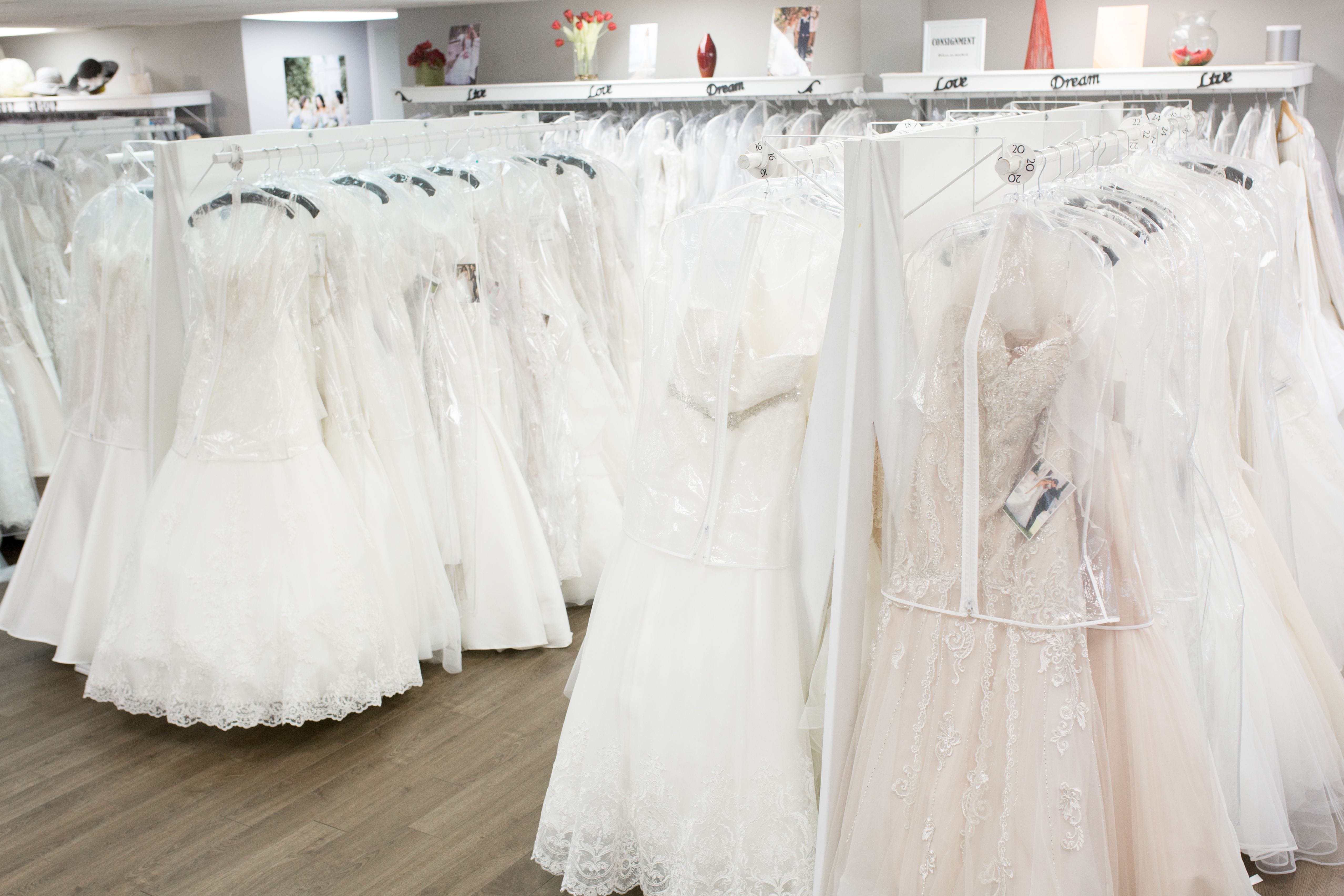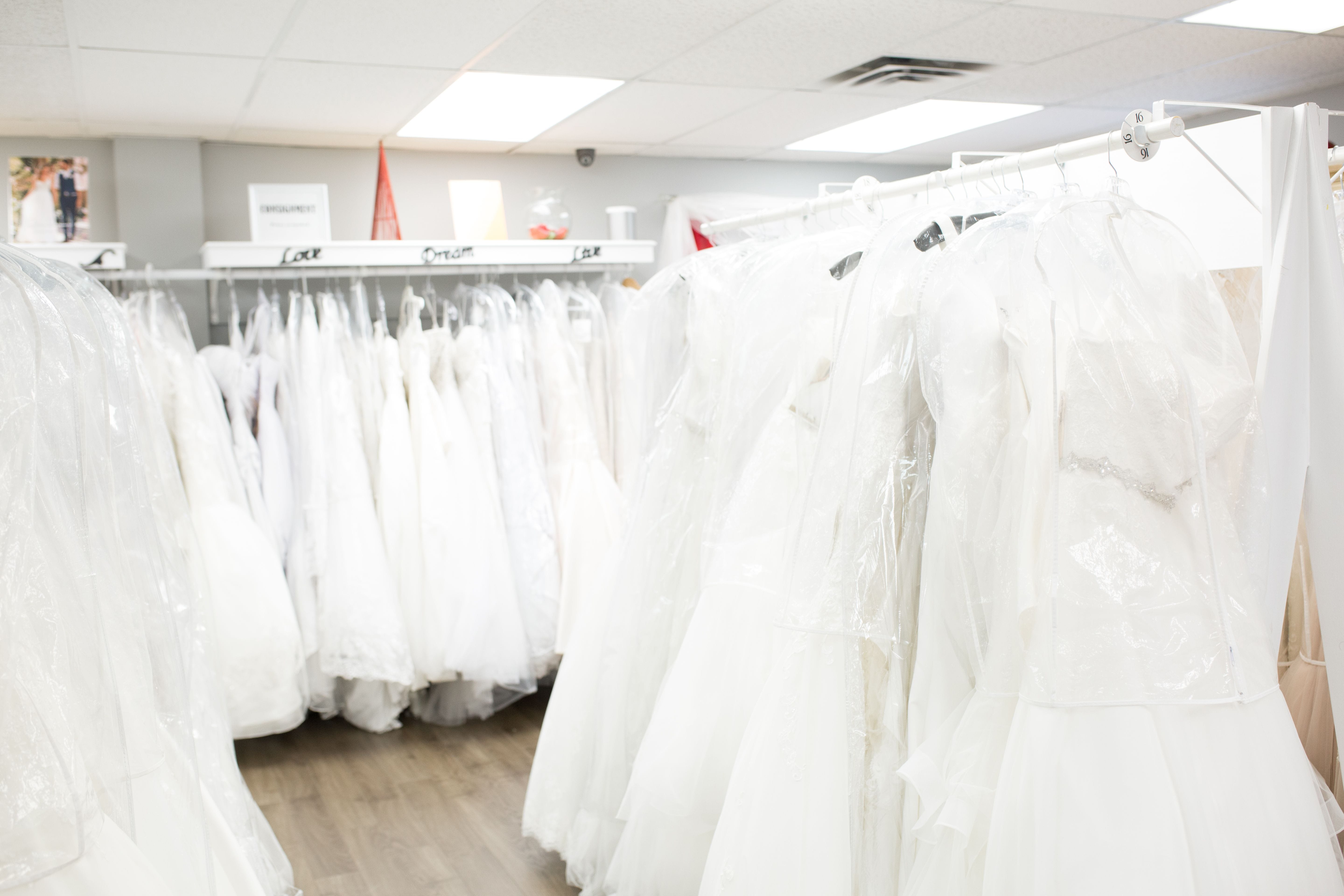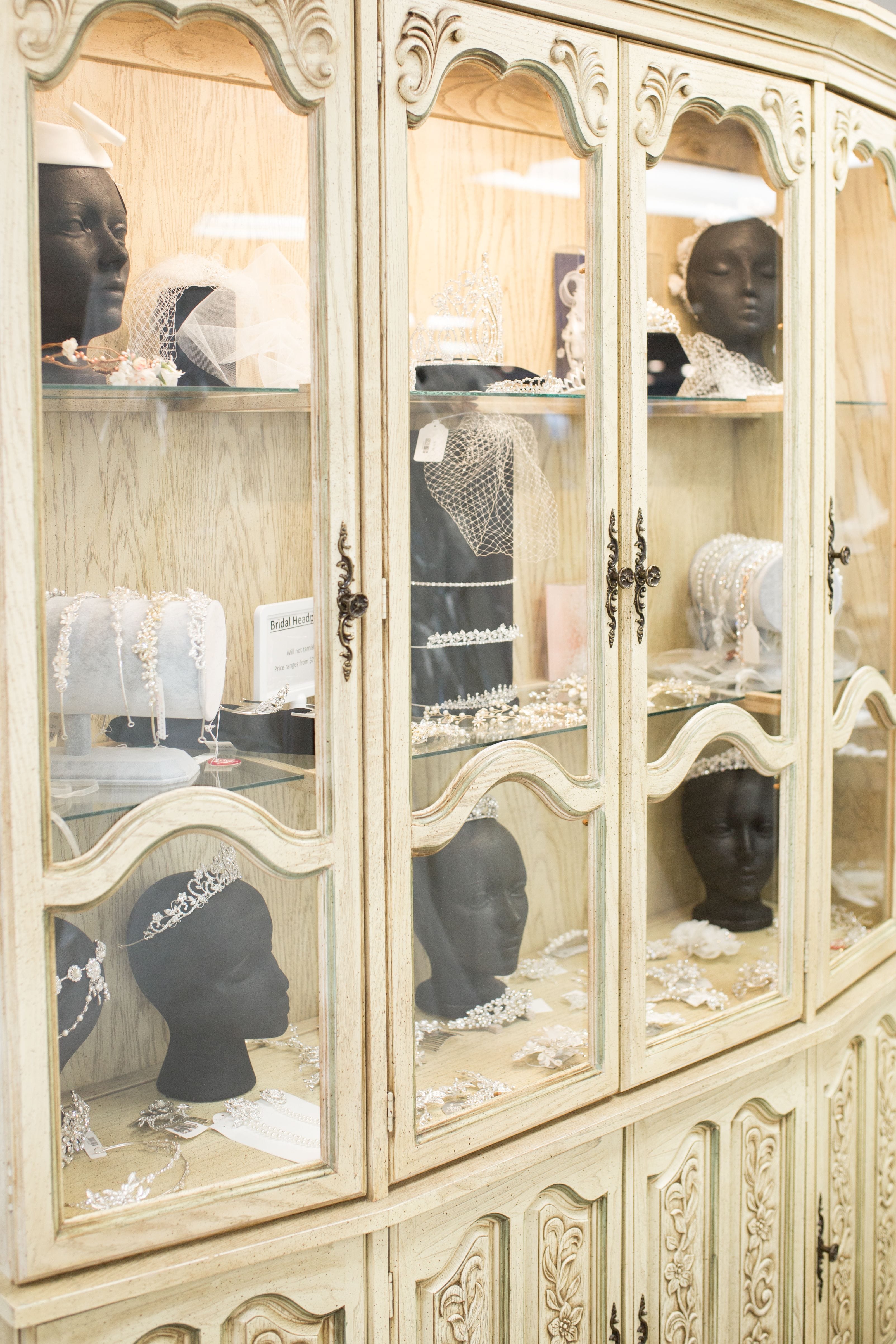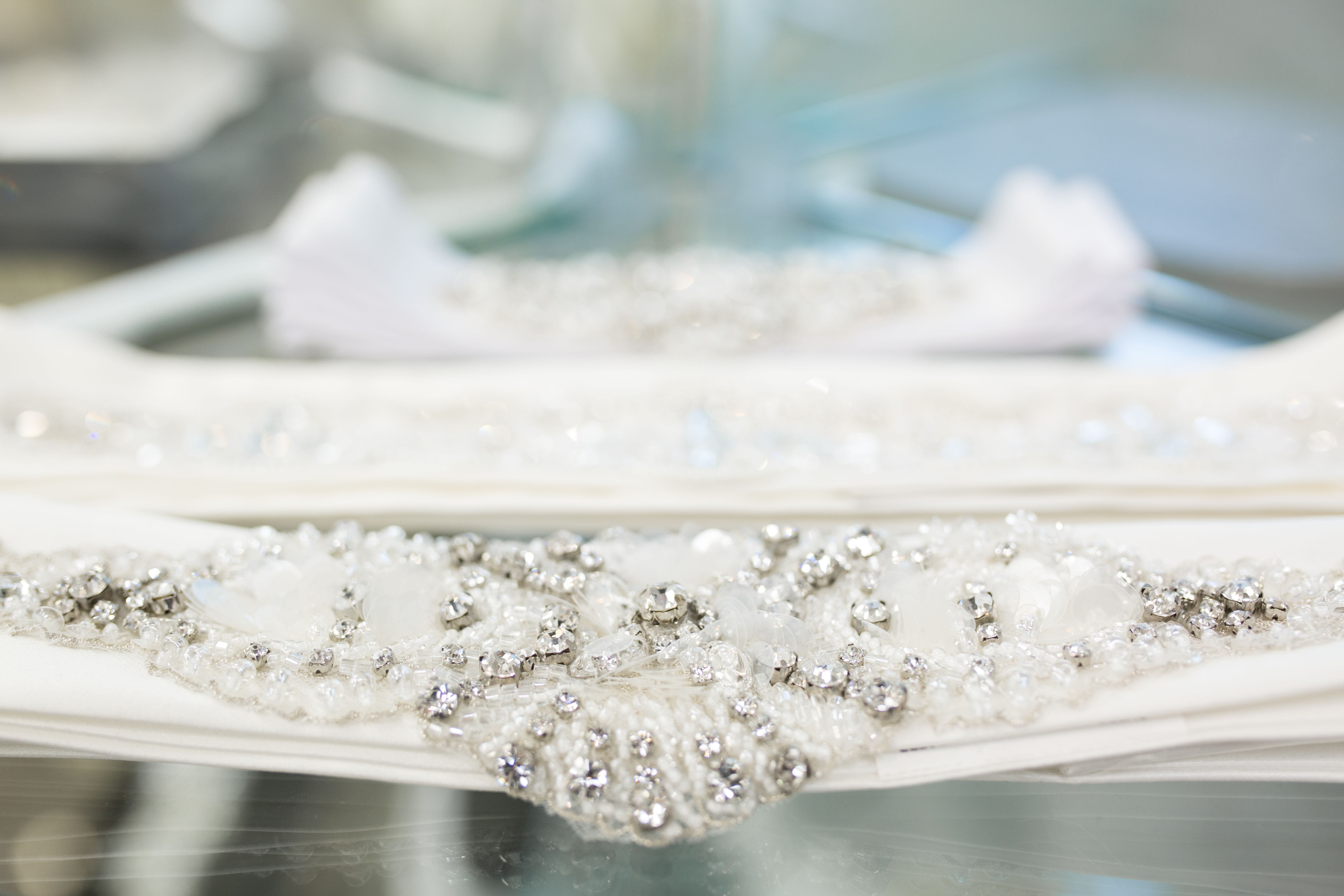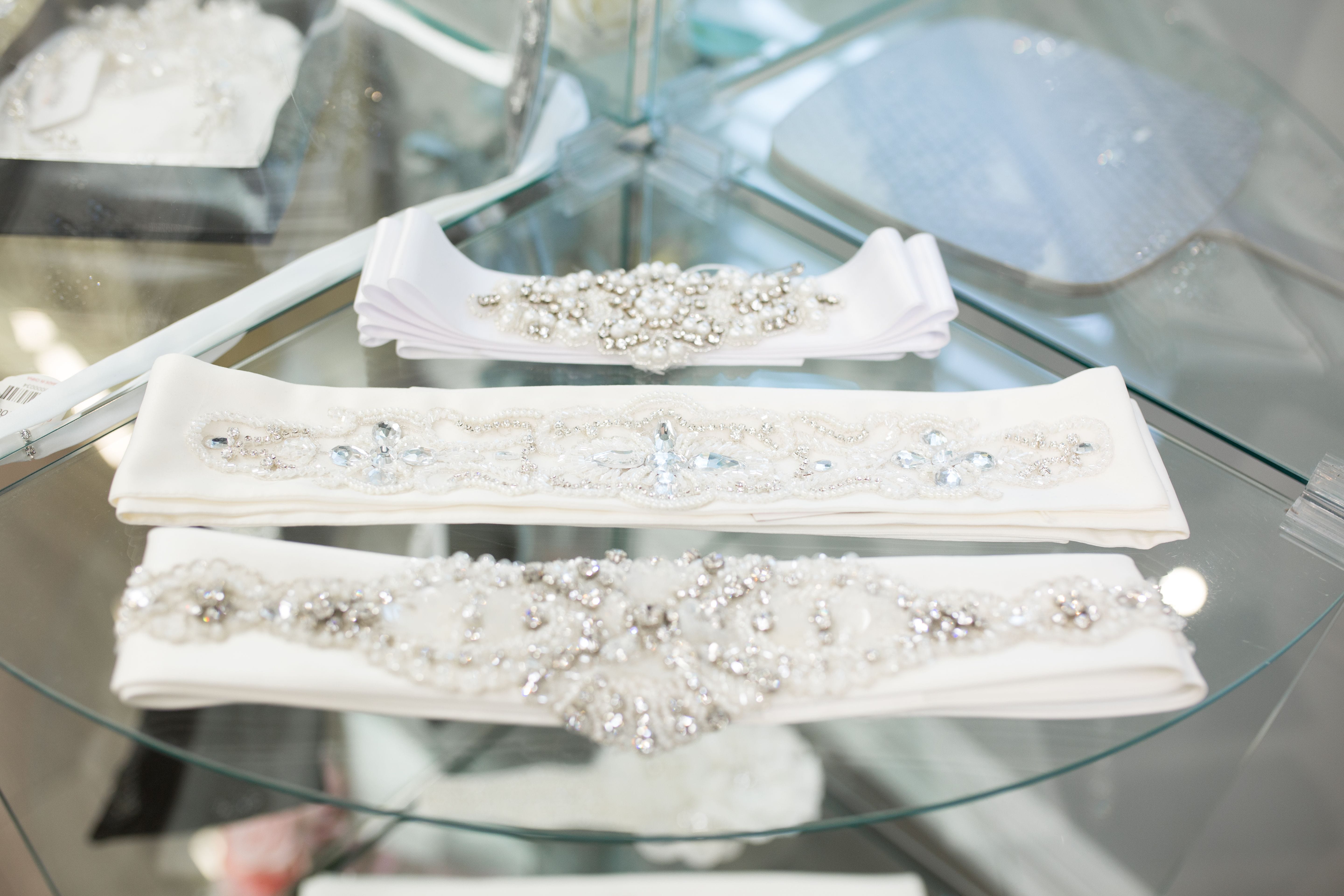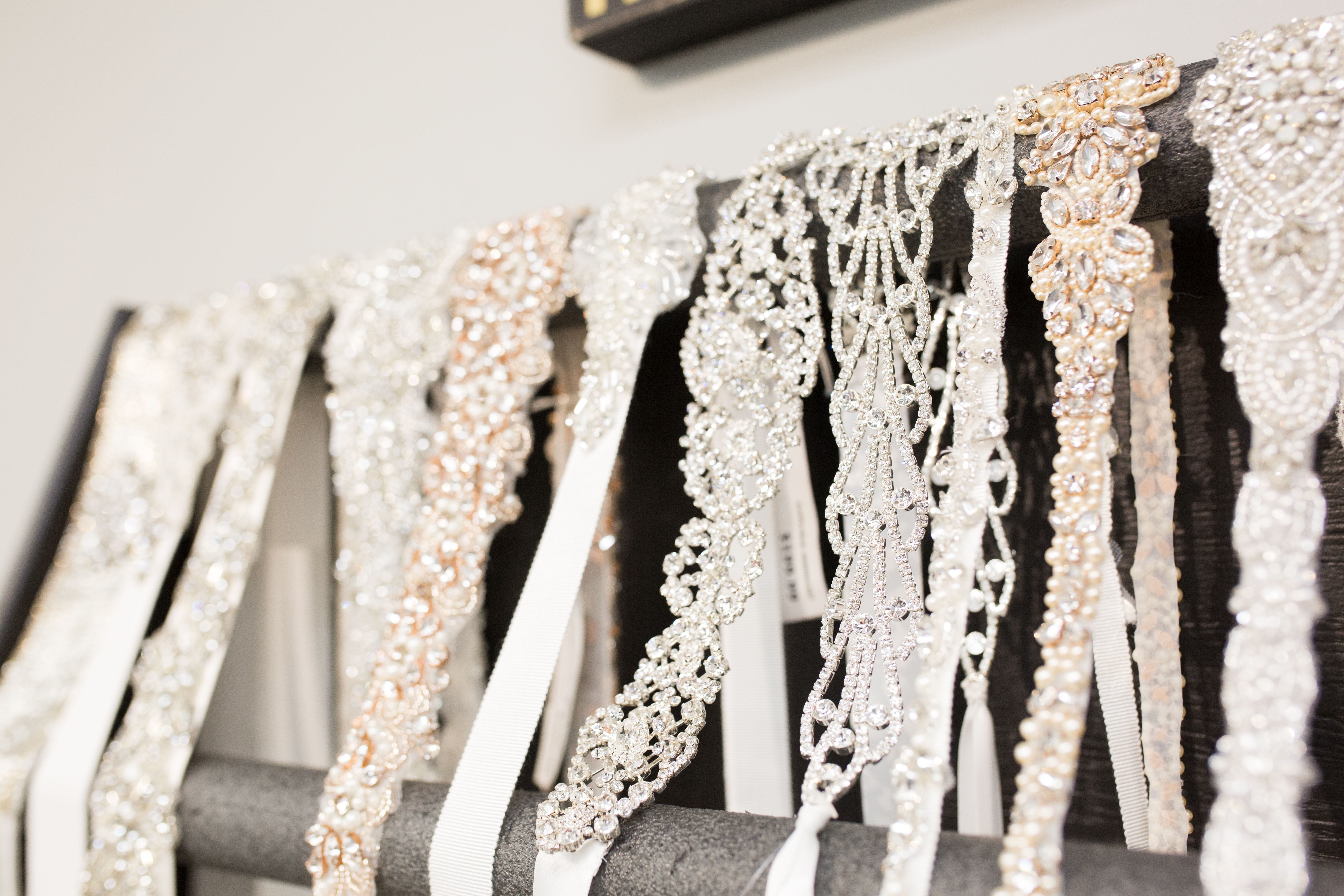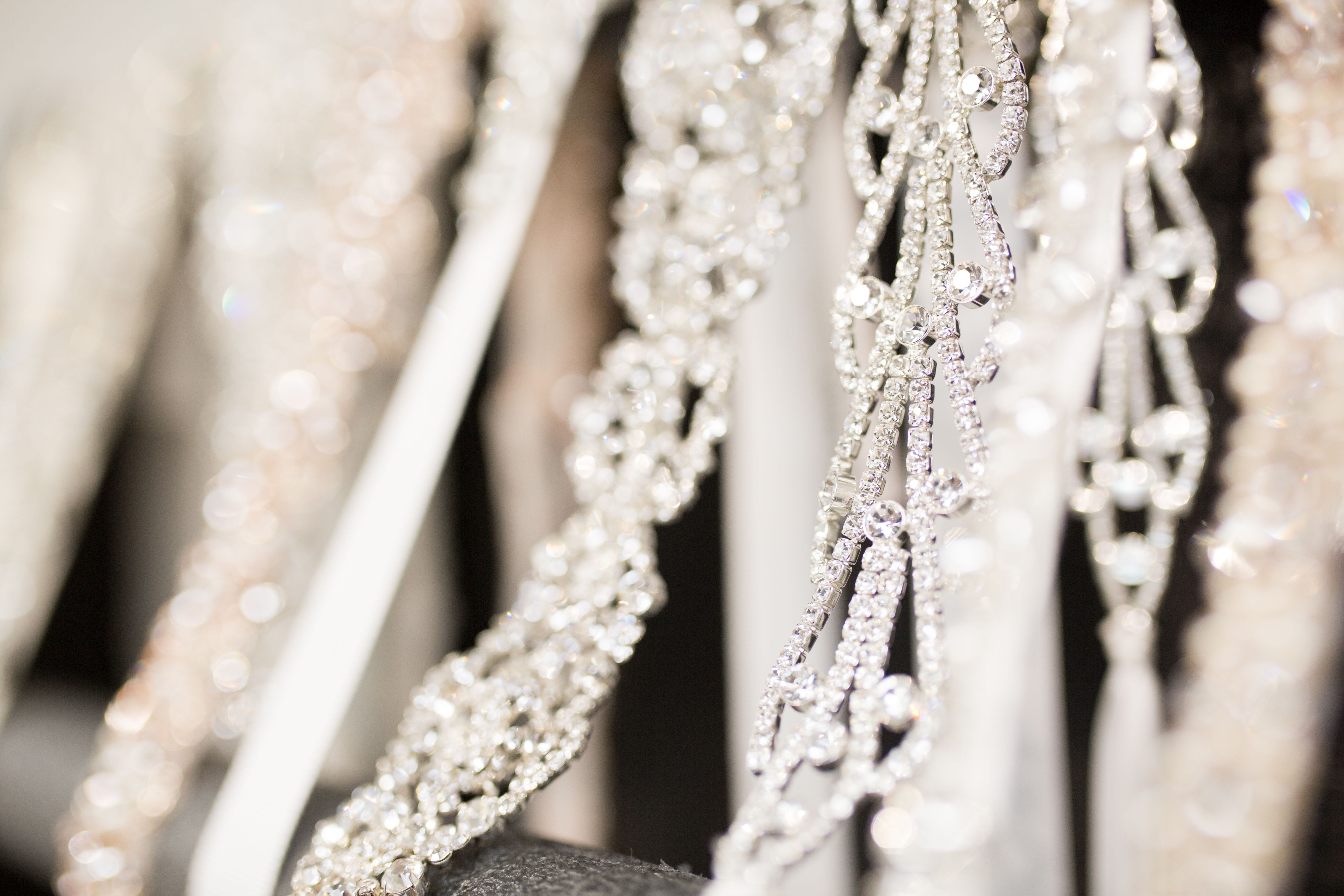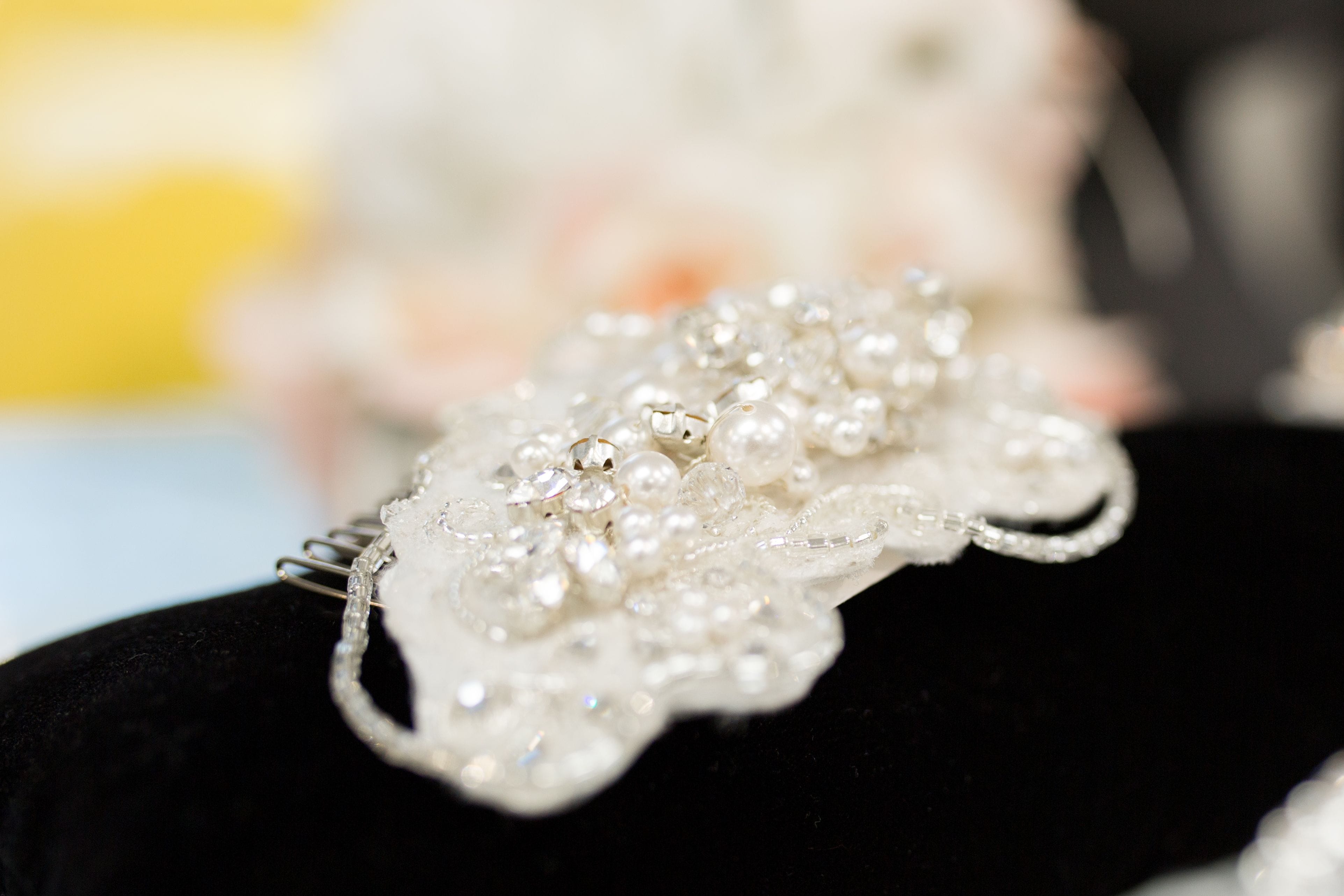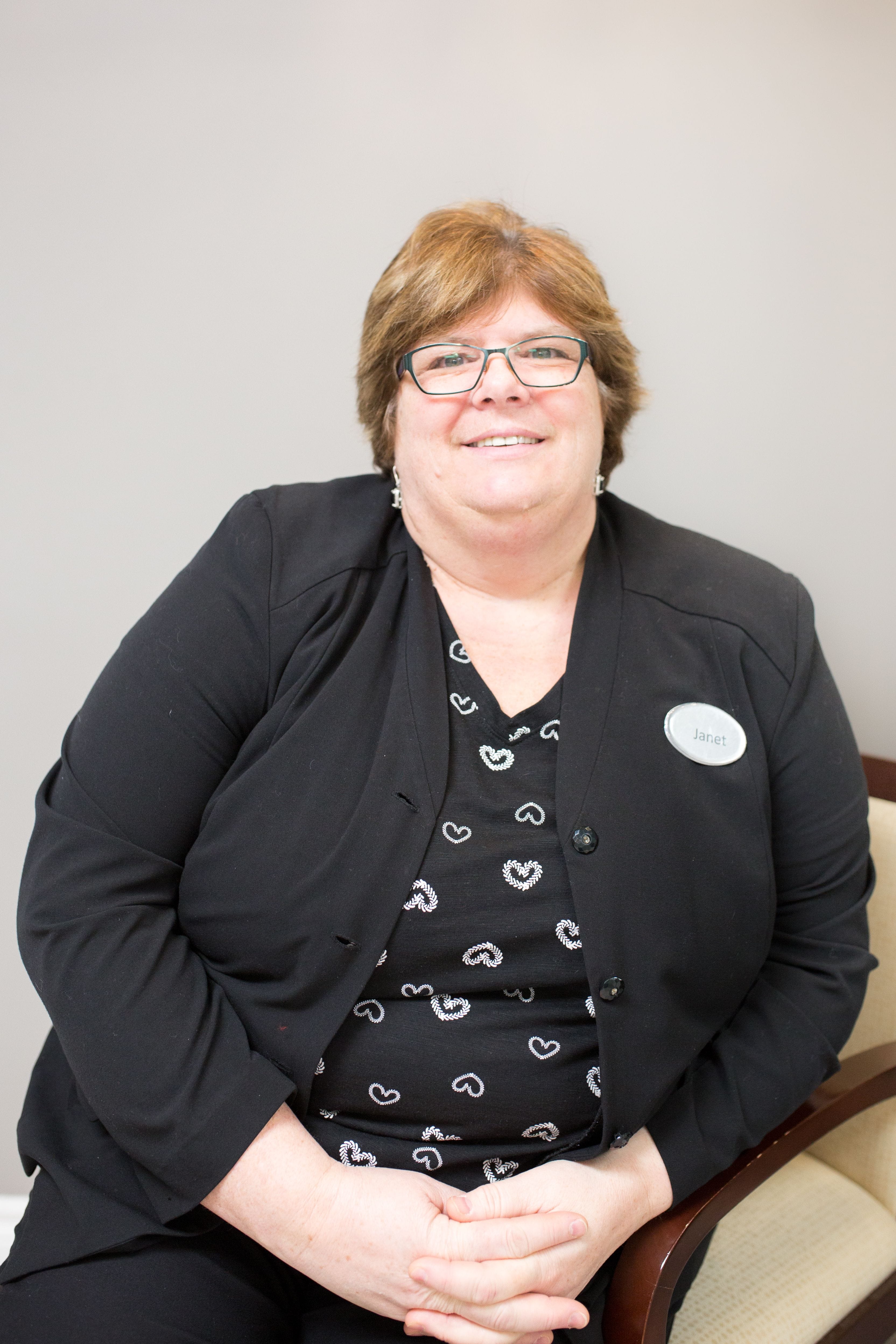 What inspired you to start One Love One Dream Bridal?
I'm a seamstress and have been sewing since I was 12 years old. I would do my classmates Home Economics assignments and they would do my English homework in return. So, I was always creating when I was younger and eventually had the dream of sewing my own wedding dress (which she did!). After that, a girlfriend at work saw that I was able to do that and she asked if I could make her wedding dress. From there, word spread and other friends and friends of friends asked me to make their dresses and bridesmaid dresses. It's been a dream to sew, make my own wedding dress and finally have a store to sell to other brides to make their wedding dreams come true. I don't have the time to sew anymore so I'm happy that we can purchase ready made wedding dresses and help make our brides dreams come true.
How did you come up with the name for your business?
I originally wanted "Dreams Come True" but the name was already taken. I spent a bit of time thinking about what I wanted my name to symbolize. My one dream was to open up my own bridal store and I have been married to my high school sweetheart (my one love) for 32 years. So that became One Love One Dream.
What is your favourite thing about working for yourself?
When I exited the union world, I was happy. I wanted to be my own leader and do things how I wanted to do them. I like working one-on-one with the customers.
What is the first thing you do every morning?
I pride myself that any customer can come in and see the quality of the condition of the racks and how things are laid out neatly. I do a scan when I first come in to make sure that everything looks neat and tidy. I want my customers to feel like we take care of their precious gowns.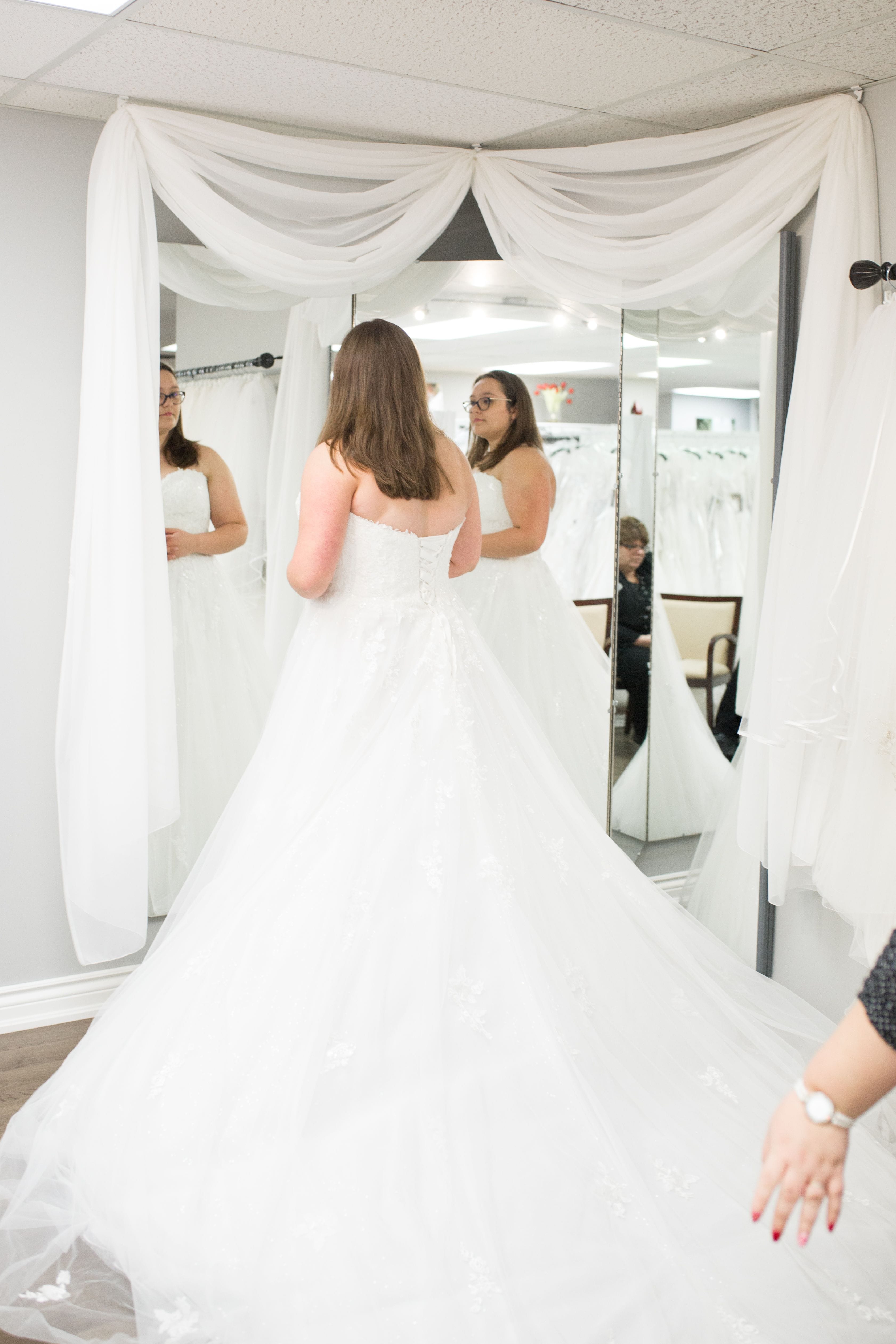 How do you define success?
It's a number game first. Since we've opened, there has been a steady increase. That's always reassuring that we are doing something right. Also, when we go out into the community, either at bridal shows or speaking to customers or partners, we hear their feedback and are so happy when they are happy with the service we have provided.
What is your biggest regret?
Probably a partial regret is that I didn't leave my other career sooner so that I could dedicate my full time to this business. I was only able to do that last summer. I ran both jobs for over 2 years and it was a strain.
How do you overcome a setback?
I always look at every opportunity as a learning experience. If it's something we've done, then I will take responsibility and work extra hard to fix it. You have to dissect each problem as they happen and think: what can I learn from this?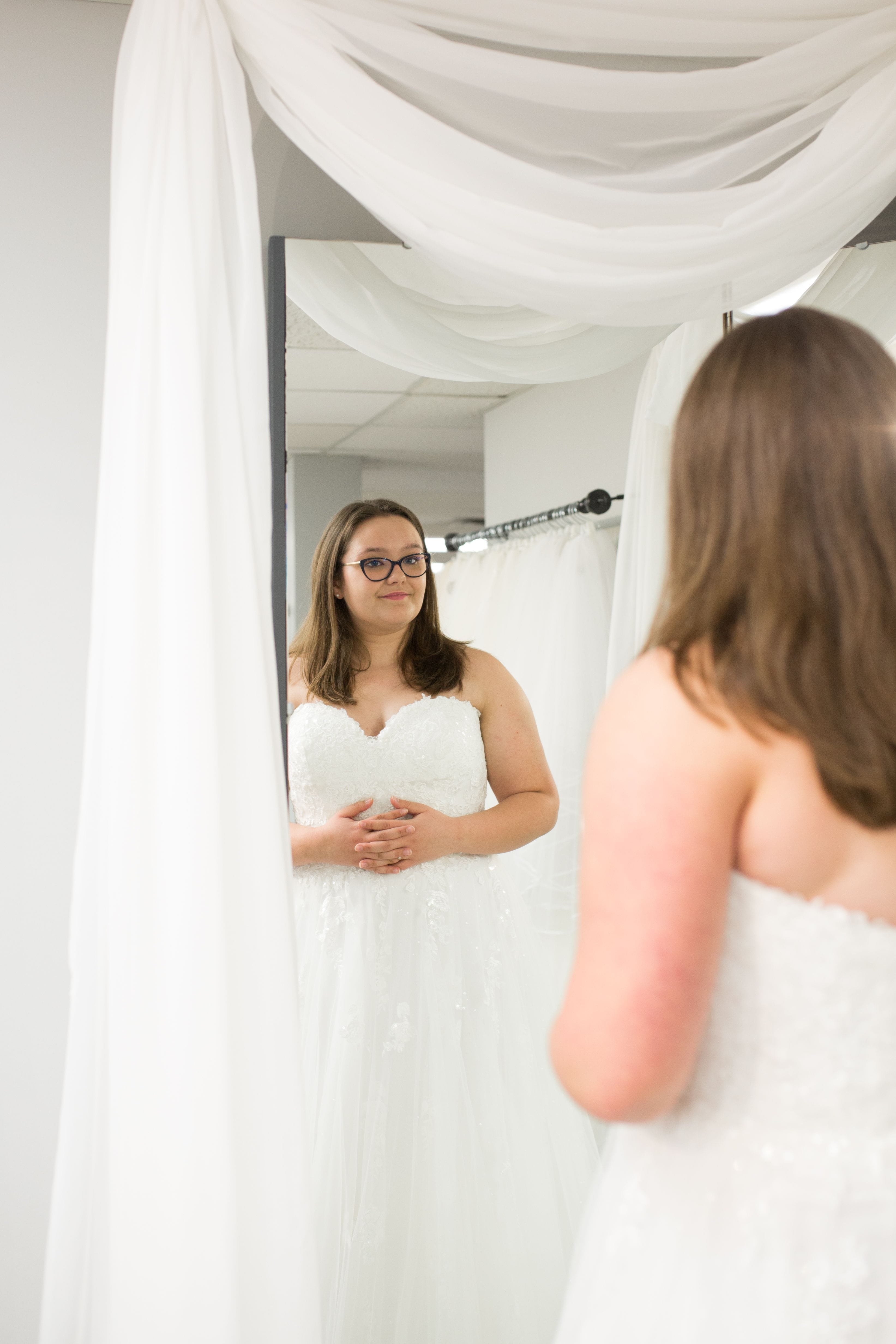 What is your biggest A-HA moment?
When we built our largest dressing room, our Platinum room, basically Courtice's version of 'Say Yes To The Dress'. I wanted to build a room that would give the shopping experience that I think every bride and her family deserves. I want the bridal gown shopping experience to be memorable and special for every woman that walks in here. Then last winter we built out bridesmaids' room. Same idea, this is what dress shopping should be about. Cozy and collective. It's all about building relationships with your brides and being a part of their wedding day from the beginning.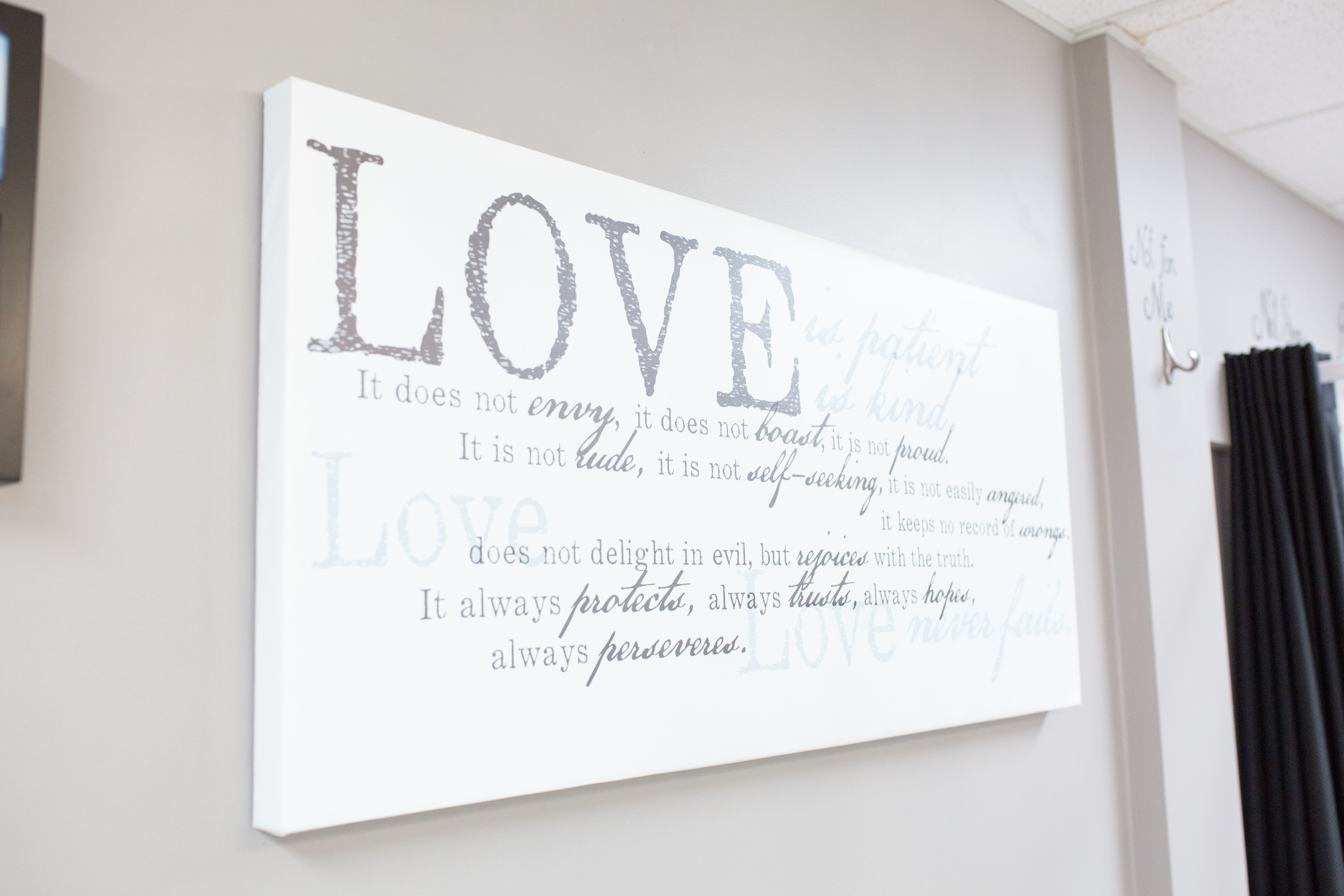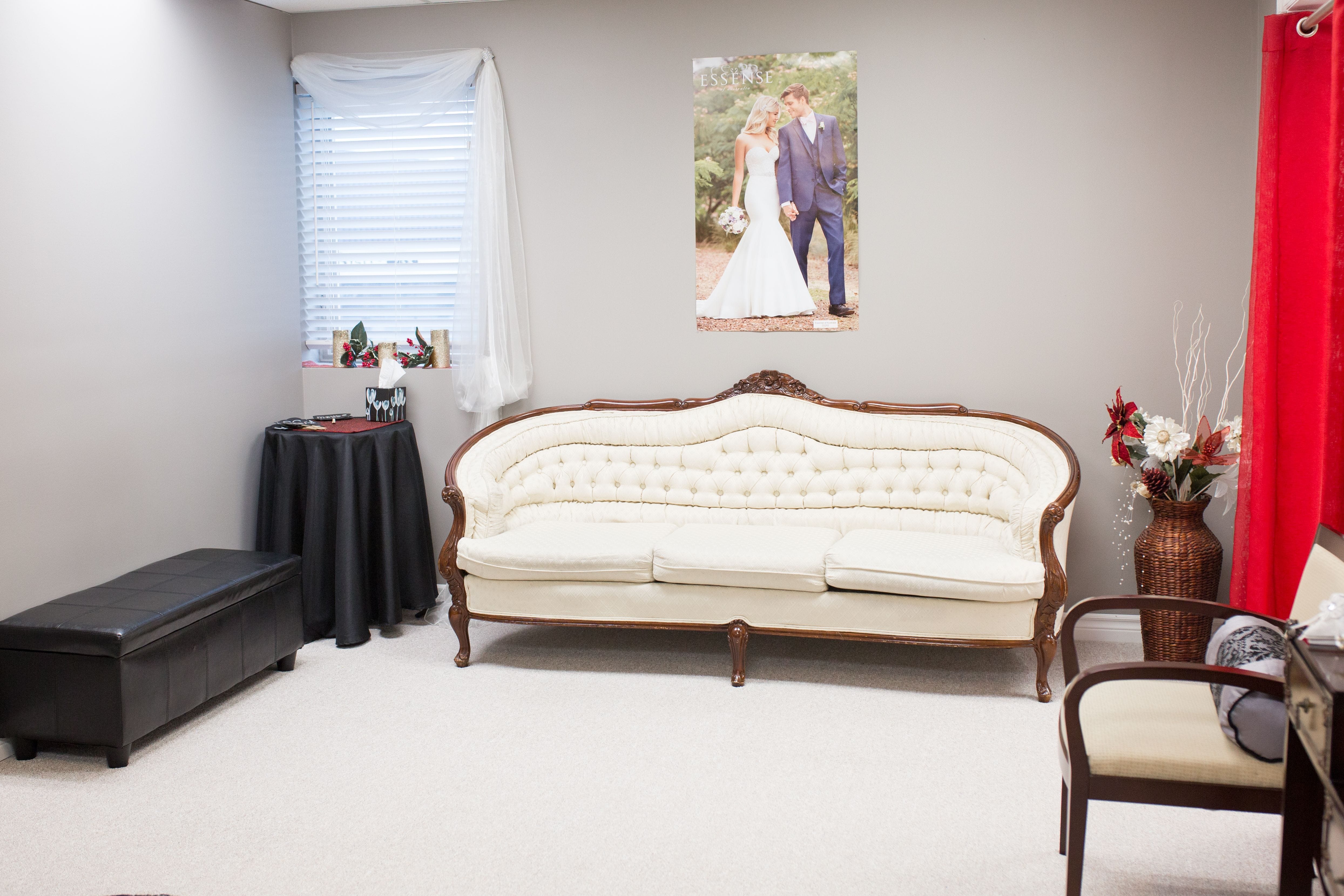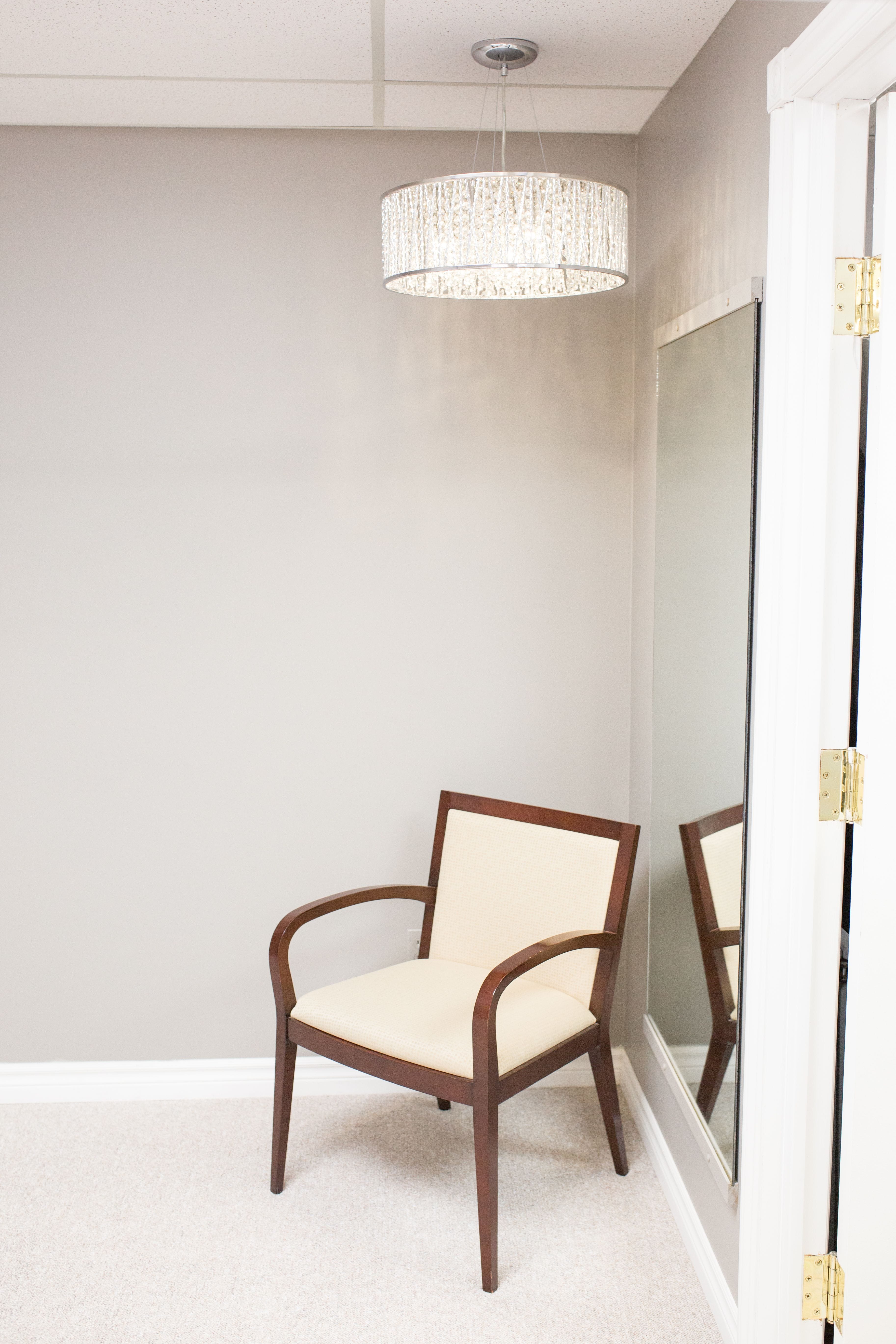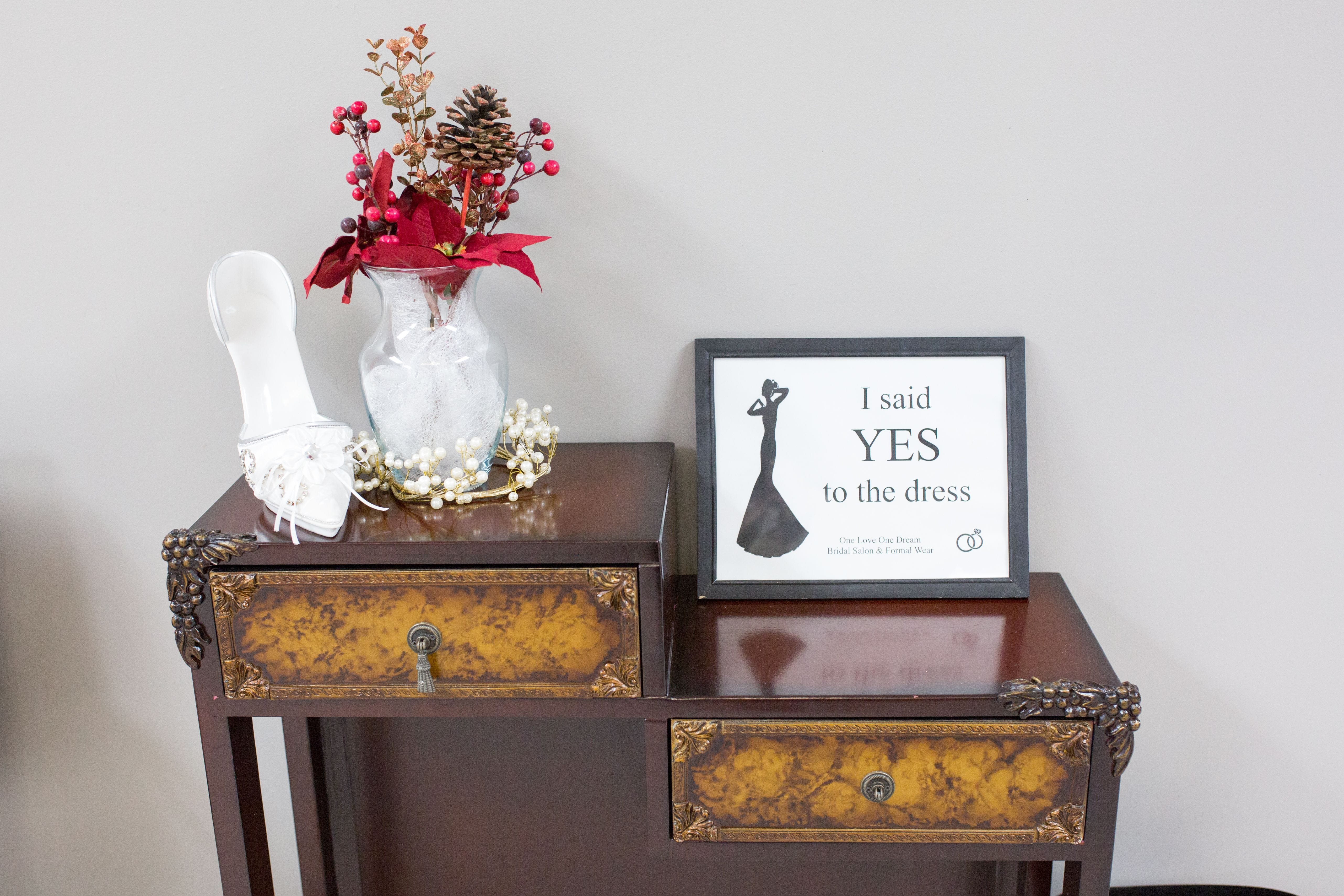 What is a non-negotiable in your business?
When it comes to people that work for me (i.e. a supplier): If you lie to me more than once, I'm done with you. The trust is gone, it can't be regained. I have way too much on the line and I don't want it to affect my customers and their experience. I love it too much to let anyone impact my business negatively.
What is the best advice you ever received?
I have two actually:
There are no problems, only solutions.
Don't react immediately with your emotions. Take a breath and sleep on it before you respond.
If you could tell a perspective client one thing, what would you want them to know?
Try and have some idea of what you want your wedding to look like. Are you having a big fancy party, a reception at a barn, a beach destination, etc.? Your theme will determine what style of dress you choose. Most of our brides purchase a dress during their first appointment so, with that being said, come in with the expectation that you will find a dress. If there are any barriers, communicate with us beforehand because you don't want to be overwhelmed in choosing a dress. We want the appointment to be organized so that your dream dress is a clear choice.
Another thing to avoid is Pinterest and online shopping. Especially when you are looking at places that are based in the U.S or U.K, those areas are 1-2 years ahead of Canadian fashion designers so they won't have those styles available to our customers. There is no problem with looking at the types of dresses that will flatter your body type but don't get fixated on a specific style number because you may be disappointed because Canadian manufacturers do not have those specific dresses.
In terms of budget, be realistic. Expect to spend 3% of your wedding budget on your dress. This will be in your photos forever so we don't want you to look back and regret any decision that you made in the moment that wasn't thought out. There are ways that you can lessen the cost as well (i.e. borrow a veil, shoes, tiara, etc.). Also, lace and beading always makes a dress more expensive so keep that in mind.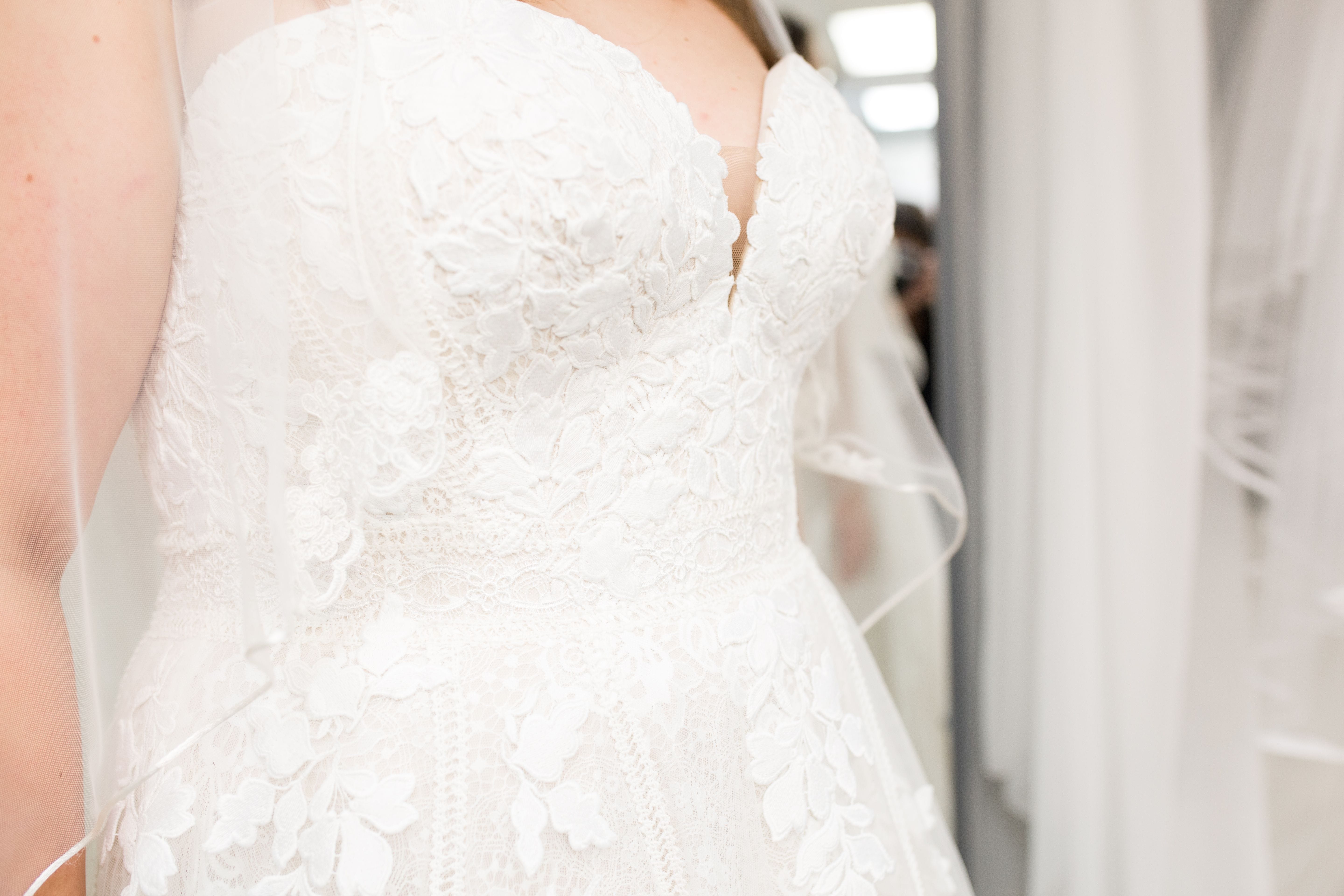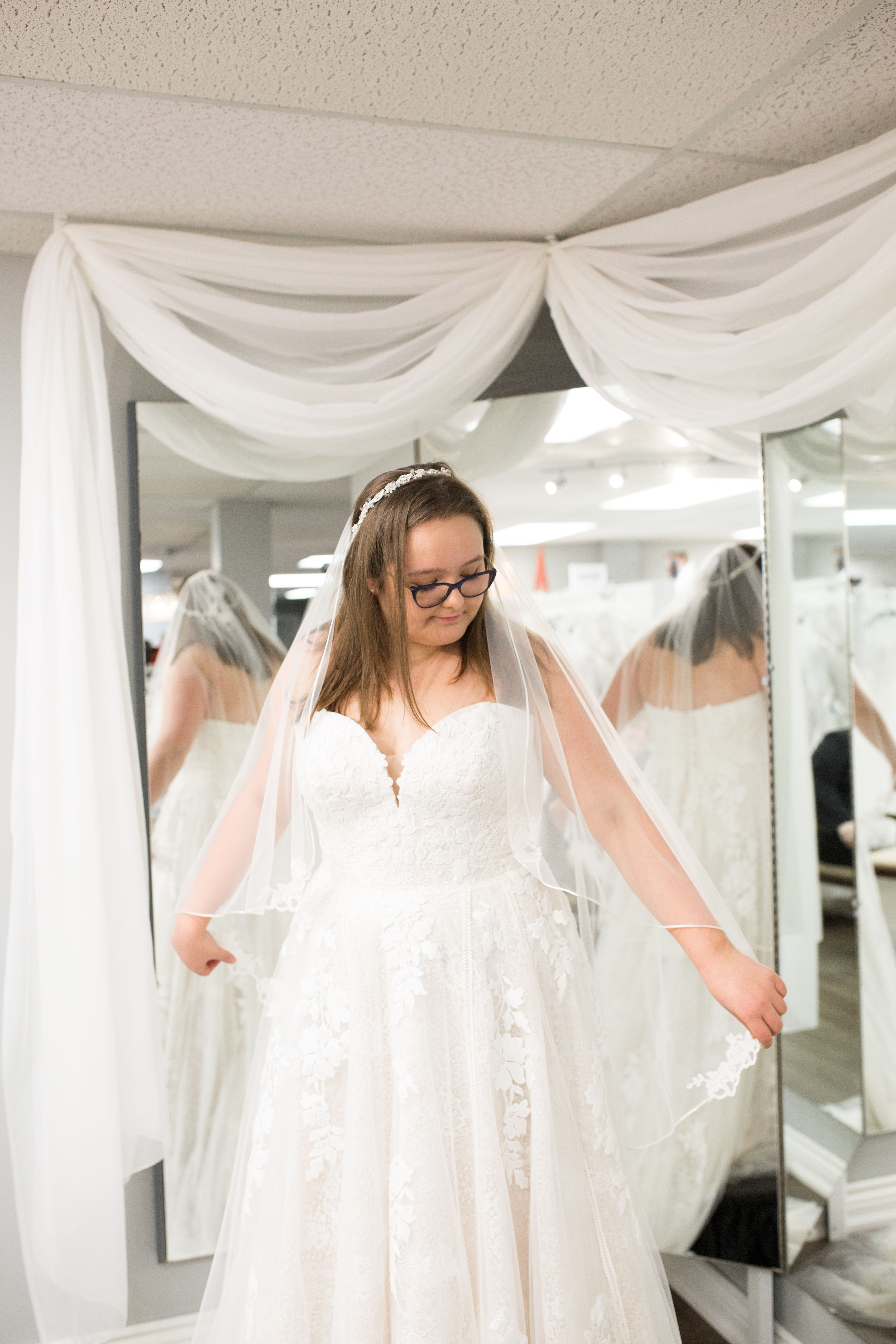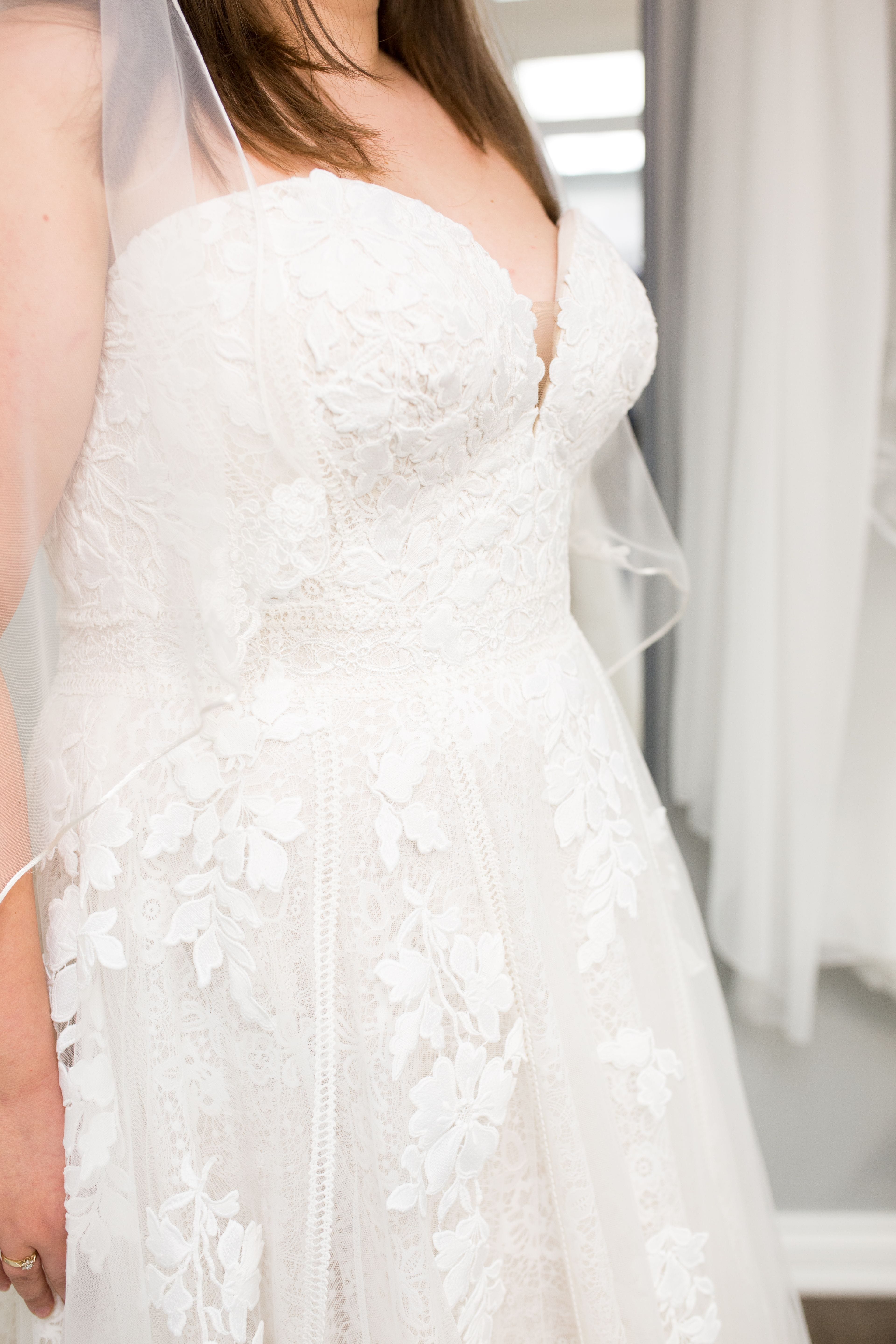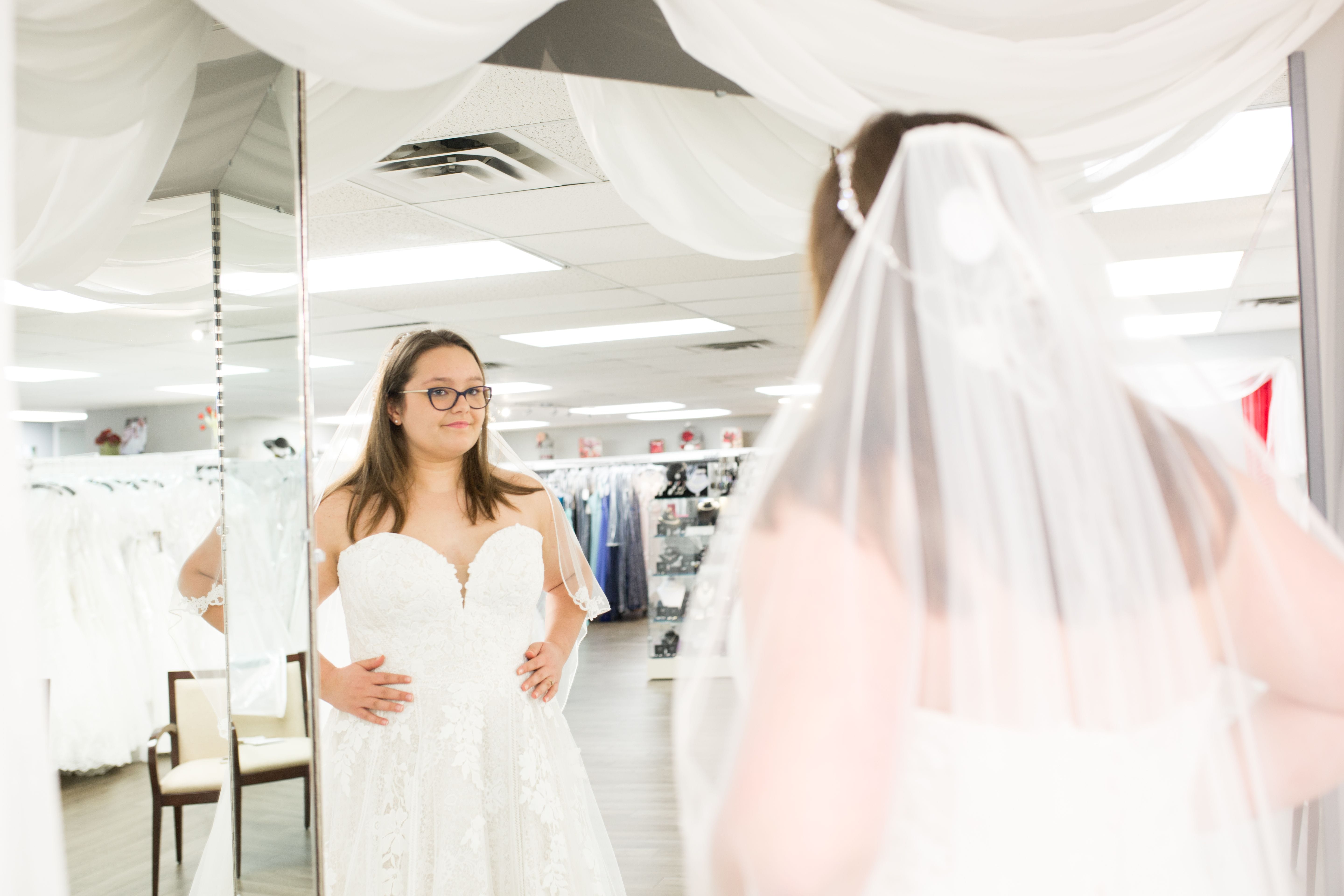 What is the ideal timeline to choosing a dress?
I recommend nine months. It takes five to six months to receive it from the manufacturer. That is enough time to choose, order and take your dress to be altered and steamed so that it's perfect on your wedding day. You don't want to order too soon because your weight can fluctuate, even due to stress, so you want to be aware of that when you are ordering.
What are the trends you are seeing in your industry in 2019?
I'm pretty sure the bohemian style is gone. It was here for a few years and it's phasing out now. The industry is starting to come back to a more traditional look. That means ball gowns and back to white. Undertones of Moscato and blush are still trending. Floral patterns and blue hues have taken a rest.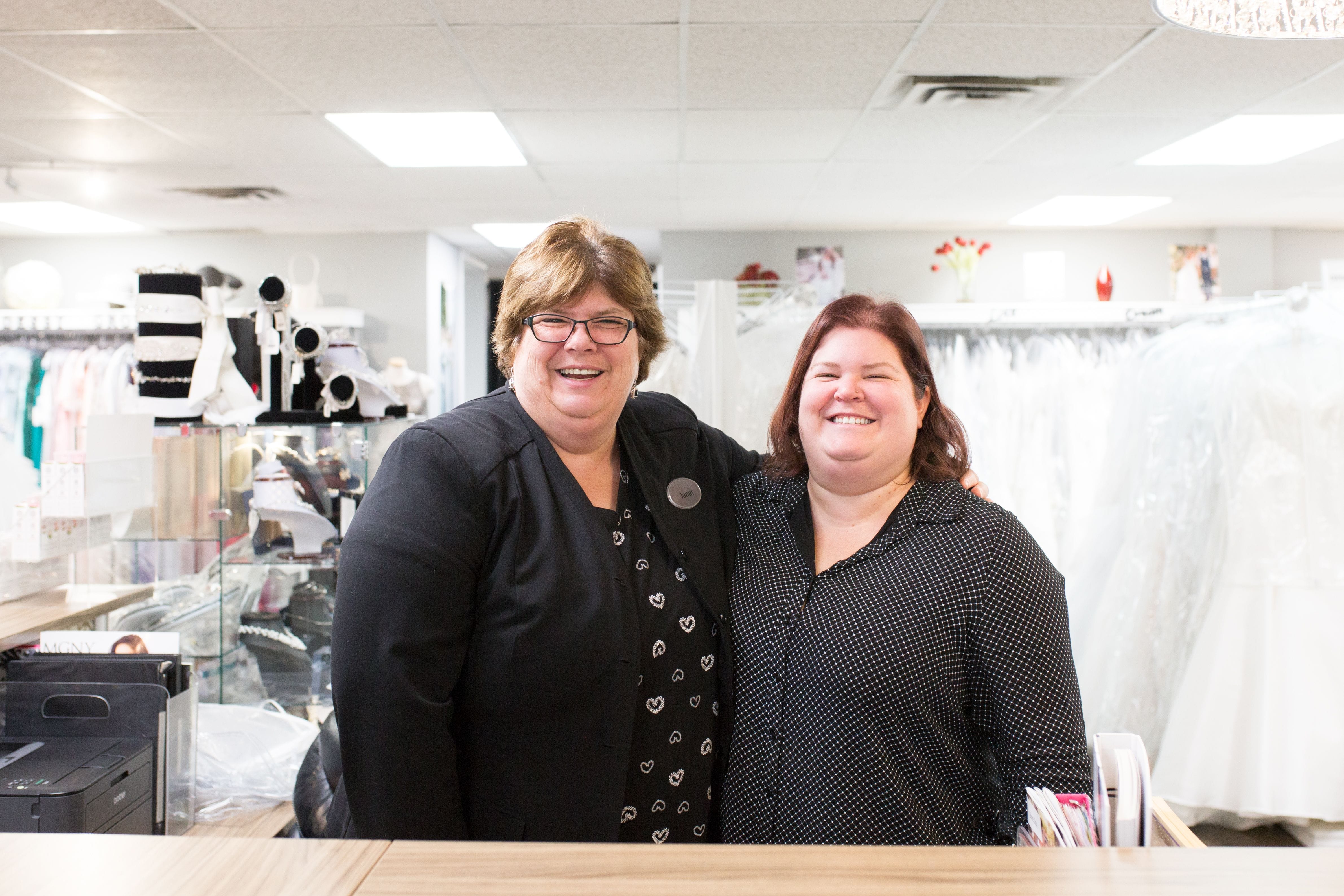 What is next? Is there anything you are working on now or excited about sharing with us in the near future?
This Sunday is the wedding show at Deer Creek. We'll have a booth there so come say hi and check us out! (https://www.facebook.com/events/272292376958338/)
Sunday is also Northumberland Bridal Show in Cobourg https://www.facebook.com/events/1952828931441156/
The next few shows are:
January 20th, 2019 at Oshawa Golf and Curling Club
http://www.durhambridalshow.ca/
February 17th, 2019 at Garnet B. Rickard Arena for Sass Events Wedding & Events Show
https://www.facebook.com/events/245106669540856/
February 24th, 2019 at Ajax Convention Centre
http://www.durhamweddingsource.com/
March 24th 2019 at Millbrook Cathedral
http://www.millbrookcathedral.com/
One Love One Dream Bridal is such a well organized and established bridal salon. Janet and her team have built a wonderful atmosphere for every bride to find her dream dress. I would definitely check them out!
How to find One Love One Dream Bridal:
1415 Durham Regional Hwy 2, Courtice, ON
Instagram: https://www.instagram.com/oneloveonedreambridal/
Facebook: https://www.facebook.com/OneLoveOneDreamBridalAndFormalwear/
Email: oneloveonedreambridal@gmail.com